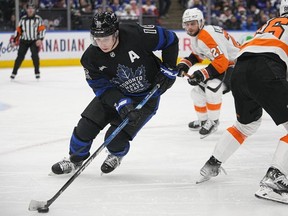 T'was the night before Christmas and all throughout Bay, not a Leaf was seen stirring, not even TJ.
For the next four days Toronto can celebrate Christmas and a remarkable run in the standings that has lasted nearly two months. Bookended by wins over the Philadelphia Flyers, Toronto has 17 victories, three losses and four points from overtime setbacks. The Leafs have stayed within range of the surging Boston Bruins, the NHL's best team.
You are reading: Spelling out Leafs' Christmas cheer
Let's spell out the reasons for the season's success at the yuletide break.
C is for the crease. Matt Murray and Ilya Samsonov both got hurt early, setting off the grumbling Kyle Dubas should've re-signed Jack Campbell. Today, the duo ranks fourth and fifth in save percentage, a strong rotation the Leafs have rarely enjoyed in recent years.
H is for head-to-head games. The Bruins should be running away with the division given their record, while pre-season predictions were Toronto would struggle to hold third place, between the perennial threat of Tampa Bay and improved teams below it.
But the Leafs gave Boston one of its four regulation losses and have taken three of four points from the Lightning. Still to come are three games against the Bruins, including two tests in TD Garden.
Readmore : Corner Kicks: Is more Moroccan magic in store at World Cup?
R is for rush. Every time one of the Leafs top six forwards breaks out or strong skating checkers such as Alex Kerfoot and Pierre Engvall rev up, they're a scoring threat. Sure, there are dangers to life in the fast lane, as in charged with the most giveaways in the league, but it gives foes fits and is a guaranteed crowd pleaser.
I is for injuries. All teams have them and for the Leafs this year, the hurt began at the back with the goalies and seeped through the defence. At one time four blueline starters were sidelined.
But with the forwards more committed to dropping back, it's allowed Timothy Liljegren among others to survive their baptism of fire. In the new year, Morgan Rielly will return and fingers are crossed for Jake Muzzin.
S is for special teams. The Leafs aren't as dominant on the power play as last year, but are still top 10 and the move to five forwards makes them more dynamic down low, despite the risk of not having a natural defenceman.
The penalty kill is middle of the pack, but the good news is up until Thursday's game, the Leafs haven't been short more than a couple of times a night.
T is for travel: Toronto didn't win a game on a Western U.S. swing in late October, then it seemed it couldn't lose away from home in a series of shorter jaunts. With notable exceptions such as Boston, most of their upcoming road games are against teams at or below the playoff line, but elongated trips of up to five games loom at the end of the schedule.
Readmore : Roughnecks roster steps forward into 'different' era without Dickson
M is for Mitch Marner. A franchise-record 23 games with a point highlighted the full Marner package, 5-on-5 and special teams.
That he's done it with a changing cast of left wingers with him and centre John Tavares is also noteworthy. The all-star ranks fifth in NHL takeaways, too, just ahead of Auston Matthews.
A is for assistants. Sheldon' Keefe's staff aren't allowed to speak to the media, but you're hearing a lot more praise about Spencer Carbery's power play, Dean Chynoweth's work with all the new defencemen pressed into full time service and Manny Malhotra's faceoff strategizing, that often sees a pre-draw huddle to double check assignments.
S is for the Swedes. At a time Leafs Nation is still processing the passing of Borje Salming, his descendants are doing Scandinavia proud.
William Nylander, who had a strong off-ice bond with Salming, is the first Leaf to 20 goals. Liljegren and Rasmus Sandin have blossomed as a pairing, Engvall has stuck to his gentle giant brand, Calle Jarnkrok and Pontus Holmberg have established themselves and Erik Kallgren is on call in net.
Merry Christmas to all.