Inflation? Dine Out Vancouver is more like deflation.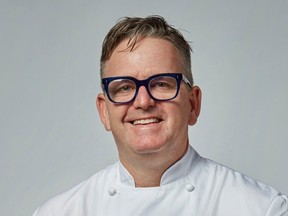 Reviews and recommendations are unbiased and products are independently selected. Postmedia may earn an affiliate commission from purchases made through links on this page.
Inflation? Dine Out Vancouver is more like deflation.
You are reading: 15 budget-friendly bites during Dine Out Vancouver
Participating restaurants offer some awesome deals during the event, which goes until Feb. 5. The three-course menus don't lie. Look at the CinCin Ristorante's $55 three-course Dine Out menu. You'd pay a good $15 to $20 more on the regular menu.
Hawksworth restaurant offers a budgeter's dream for their high-end cuisine with a $29 three-course lunch. A main lunch dish alone could cost more on the regular menu.
Minami's Dine Out lunch costs more at $45 but that's for seven courses, including seven-piece sushi and three-piece sashimi courses.
At Bacchus, I wouldn't say the $65 Dine Out menu is hugely discounted from the regular but that's because the regular menu is already very reasonable.
And the big perk here? Iron Chef Rob Feenie's in the house, and yes, the Dine Out menu is his, and yes, the choices include his famous way with ravioli.
At Nox Italian restaurant, the $48 dinner includes braised oxtail with smoked tomato polenta and the ham hock and parsley terrine that I've tried — two thumbs up on that!
Readmore : Peel school board investigating after video appears to show Hijab-wearing student being assaulted
And some places do it their own way — like Torafuku. Their $62 pan-Asian menu offers five courses instead of the usual three for Dine Out — six, really, since there are two desserts.
Or, if you like the familiar and safe, opt for a Cactus Club or Earls where you'll find some of your favourites for a few dollars less than usual.
I haven't been here for ages but love a great vegetarian meal, which is what I'd totally expect here. They've tossed the three-course concept and offer eight dishes. Or, if you prefer, a six-course brunch is available. Brunch, $42. Dinner, $65.
The beloved restaurant is the hospitable, delightfully delicious side of Afghanistan. The menu includes items like fried chicken bites with Afghan chutneys, minced beef kebab with pickled onions, mint chutney and cumin rice. Dinner, $44.
If you skipped past the introduction, star Chef Rob Feenie's in the house and the ricotta mascarpone ravioli with black truffle beurre blanc, Grana Padano and Pecorino Romano isn't to be missed. Dinner, $65.
Slow-cooked Brant Lake wagyu beef, did you say? With polenta, chicory salad, charred cabbage, pickled radish, braisage? I'm there. And hey, I learned that braisage is French for braised. Dinner, $65.
I love the serendipity and outside-the-box thinking here. All normal to Chef Andrea Carlson, though. Oh, yes, please! to the roasted pork collar with wild rose honey vinegar glaze, celeriac remoulade, charred cabbage and hazelnut cake with meringue and caramelized parsnip purée. Dinner, $65.
It's a whisky bar in an affair with assertive Japanese food — I'm just imagining, slightly drooling, at the thought of whisky paired with the robata skewers (wagyu, kurobata pork chasu, chicken), tempura and the two appies and dessert. Dinner, $59.
Readmore : Ricki Lake posts video of the moment she shaved her head: 'Leap of faith'
Red wine braised beef shoulder, soft polenta, grilled rapini — perfect January food. And I'll totally hoard the zeppole with chocolate coffee sauce. Dinner, $55.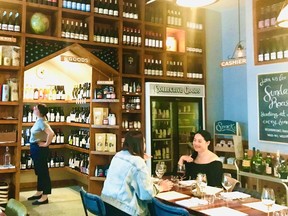 I love the unapologetic allegiance to French bistro cuisine. For Dine Out, they colour outside the lines offering six-courses. Can there be room for profit with foie gras, steak and sablefish on the tasting menu? Dinner, $65.
Insane deal! A three-course set lunch at this haute restaurant includes a braised beef cheek as the main dish. Lunch, $29.
The food comes out of left field and on-point. For Dine Out, chef offers a five-course tasting menu with cheeky names: Chicken of the Sean, Life's a Biche, Sir Salmon Rushdie, Pork Crepinette, Quince of Darkness. Dinner, $65.
How long has it been since you dined at the iconic Hotel Vancouver? Here's a reason to — the three-course menu option on the regular menu is $79. During Dine Out, it's $50.
As mentioned above, ham hock terrine! Braised oxtail with smoked tomato polenta! Add tiramisu with hazelnut meringue chip and you're purring. Dinner, $48.
Oh, just yum, yum, yum! I'll have the prawn toast, Mama Cheung's laksa and coconut panna cotta with black currant and pandan noodles, please and thank you! Dinner, $38.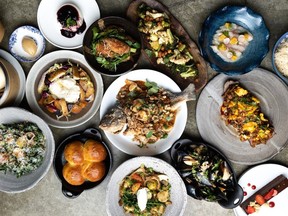 It's not just bang for the buck, I love the banging flavour. They offer five dishes, and it's six if you can finish the second dessert. Main course choices include a whole fried sea bream with garlic prawns and Thai chili tamarind sauce. Bang! Dinner, $62.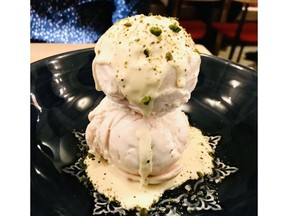 The owners warmly embrace guests here and at their South Surrey Afghan Kitchen, listed above. The modern Afghan/Middle Eastern food and cocktails are next-level. I order you to have the incomparable shir yakh rosewater gelato with pistachios, topped with frozen clotted cream, $55.
---