Hugh Jackman and Laura Dern discuss mental health and playing divorced parents of a troubled teen in The Son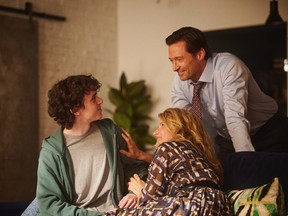 Postmedia may earn an affiliate commission from purchases made through our links on this page.
I'm of the opinion that The Son, Florian Zeller's followup to his 2020 drama The Father, is not the equal of that film. But it is trying to say something important about mental health, and a conversation with stars Hugh Jackman and Laura Dern shows that they were completely onboard with that aim.
You are reading: 'There's no more humbling thing to do that being a parent'
It may have helped that the film was shot in the summer of 2021, with pandemic restrictions still in force. It threw the cast together in a way they might not have otherwise. "We were all staying in the same hotel," says Jackman. "And so we really immediately got to know each other."
"That was a gift," Dern says. "This film [gave us] the opportunity … to talk immediately about mental health. And during the pandemic, that was a conversation most of the world was having."
They play divorced parents to teenaged Nicholas (Zen McGrath), who is dealing with mental health issues that leave them uncertain how to help. Complicating matters, Peter (Jackman) has a newborn with his new wife, while Kate (Dern) has remained single since the divorce.
Readmore : What to know about the allegations against 'Law & Order: SVU' showrunner David Graziano
The two actors are well matched, on and off the screen. Both are in their mid-fifties. (Dern is actually a year older.) Each has a son and a daughter who were born in the early 2000s. And their friendly chemistry in the two-on-one interview is clear.
"I mean, clearly I'm good at what I do, because this is a nightmare," Dern says with a laugh, pointing to Jackman. "But by the way, it is a two for one deal, because when you get Hugh you get his wife [Deborra-Lee Furness], also the best chemistry of anybody I've ever met, I just love her so much."
She continues: "But the way we got to know each other was that our first conversations were about the vulnerability of parenting. That's our connection. And our discovery of a willingness to be vulnerable together about what it is to parent and fear you're not getting it right or … not having the answers and not knowing if they're telling you the truth. Those were the beginnings of our conversations around that which was, again, perfect for the film."
Says Jackman: "There's no more humbling thing to do that being a parent. And even if the circumstances aren't the same, it's easy to relate to that feeling of just not knowing what to do, of guilt. Did we do the right thing? What was the damage for that? Is love enough?"
Conversations off the set mirrored those in the film. "It's so rampant, the issue of mental health is so prevalent today. It's parents, it's kids, it's friends. You can't escape it. And so there's a lot to draw on. And I thinking being a parent is one of the most vulnerable things you can do."
Readmore : Sister Wives Stunner: Paedon Brown Accuses Meri of ABUSE
Jackman of course continues to be known as Wolverine, the superhero he first played almost a quarter-century ago in 2000's X-Men. He plans to revive the character at least one more time to appear in next year's Deadpool 3 opposite Ryan Reynolds.
"After so many years of playing such an archetypal sort of masculine role, I think it's wonderful to be exploring the vulnerability of masculinity and, as you see with Anthony Hopkins' character, that toxic patriarchy, this idea that boys need to be made into men and toughened up."
Hopkins has a supporting role as the father of Jackman's character. "And here you have a father who's desperately trying everything and still dealing with the pain of his own childhood. And the more he tries, the more underwater he goes. I think that's something that a lot of parents can relate to."
Both actors had high praise for Zeller's direction. "Nothing had to happen," in how Dern puts it. "So the actors could explore. And I think all of us just felt relieved that there was no decision in Florian's mind where it had to go." Says Jackman: "I felt an ease like I've never felt before to let go and to trust. Florian has an instinctive approach to the work, and I felt immediately that he was going to guide me in the way that I needed to go."
He hopes moviegoers aren't put off by the dark subject matter: "I mean, I love movies like this. I remember growing up, whether it was The Deer Hunter or Kramer vs. Kramer. I love seeing that sort of depth. And I think if any movie feels like homework – 'watch this movie, we're going to write an essay, we're going to have a discussion' – then it's better off making a documentary or something else. But I think with any movie, characters and story, you have to just be invested. It's a mirror to ourselves and to the human experience, and we want to feel it. So that's the most important thing, making sure audiences are feeling and their hearts are opening. And then conversation can come from that."
The Son is playing now in theatres.