Chief Electoral Officer Stéphane Perrault tells house committee he learned of the allegations on the news, says he has no evidence of foreign interference in the 2019, 2021 federal elections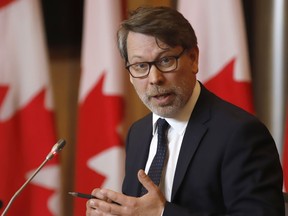 OTTAWA — Canada's top elections officer says he wasn't aware of allegations of Chinese interference in the 2019 election prior to seeing reports about it on the news.
Testifying before the Commons standing committee on procedure and house affairs on Tuesday, Elections Canada's Chief Electoral Officer Stéphane Perrault told committee members he hadn't heard of the allegations — made last month in a report by Global News — until reading about it.
You are reading: Elections Canada chief not aware of Chinese election interference allegations
"I'm not aware of any specifics regarding campaigns of interference by Beijing other than what I read in the news article," he said in response to a question by MP Michael Cooper, who had asked if the prime minister or anybody in his office had reported any alleged interference to Elections Canada.
When Cooper asked if his response to his question was no, Perrault somewhat testily reminded committee chairperson Bardish Chagger of the differences in mandate between Elections Canada and the Commissioner of Canada Elections — two separate and independent agencies.
"I would like to remind the committee that the mandate of the Commissioner of Canada Elections, unlike that of myself, and my own mandate, is to investigate cases of noncompliance," he said.
"If there is evidence to support an investigation regarding an offence under the Canada Elections Act, then that complaint should go to the Commissioner of Canada Elections."
The Commissioner of Canada Elections, Caroline Simard, is responsible for investigating and ensuring compliance with both the Canada Elections Act and the Referendum Act, while Elections Canada is tasked with carrying out and overseeing federal elections.
Questions surrounding if and when Justin Trudeau was made aware of the allegations have swirled around Parliament Hill since Global News reported last Monday that Canadian intelligence officials had warned the prime minister that Beijing had allegedly attempted to interfere in the 2019 federal election by funding at least 11 candidates.
Readmore : Carey Price apologizes for gun controversy on anniversary of Ecole Polytechnique massacre
Despite sources telling Global News that Trudeau was made aware of the allegations 10 months ago, the PM stated in a news conference on the weekend that he likewise didn't learn of the allegations until reading about them in the news.
When Cooper asked Perrault if he could find out if the commissioner was informed, Perrault said it would be up to Commissioner Simard to speak to that.
Perrault could also not say whether the commissioner had started any investigation into the allegations.
Cooper referenced a brief received by committee members on Monday highlighting 10 separate allegations of foreign interference brought to Simard's office, asking Perrault if any if them involved the Chinese Communist Party.
Perrault responded that he couldn't speak to any of them, repeating that the work of the commissioner's office is done independently and in confidence.
In Perrault's opening remarks, he stated from the outset that he wasn't in a position to comment on the Global story, but did say foreign election interference certainly isn't a new concern for officials.
"There were concerns prior to the 2019 election regarding the risks of foreign interference through various means," he said.
That prompted national security agencies to meet with political parties, with the assistance of Elections Canada, to raise awareness.
Readmore : Austin calls on lawmakers to pass new spending bill for Pentagon
"Elections security is a team sport," he said.
Protocols are in place between officials, intelligence and law enforcement agencies to enable better information sharing, he said — allowing the Commissioner of Canada Elections to immediately investigate allegations of foreign money and influence into Canada's sovereignty.
When asked by committee member Ryan Turnbull if the 2019 and 2021 federal elections were "fair and free," Perrault said he had no reason to believe they weren't.
He added he knows of no "specific intelligence or evidence" that either election was interfered with by foreign actors.
"We are, and we were prior to both elections aware that this was an area of risk, and there was an interest in certain countries in conducting various forms of disruption or interference in the election," Perrault said.
Instances of possible violations are turned over to the Commissioner of Canada Elections, he said.
Perrault also said it would take more than just media reports to initiate investigations into election interference.
"It doesn't really say that the money went to the campaign of candidates, the article doesn't say that," Perrault said in French, responding to a question by committee member Luc Berthold.
"We pretend the article says that, but we don't know where the money went or what ends it served, so we are here talking about attempts of corruption, trying to purchase influence if you will, not necessarily trying to influence the elections."