Look once again at good old-fashioned value plays that have underperformed for the greater part of the past decade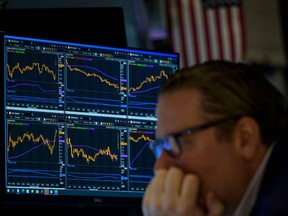 What happens if the global economy does not enter a deep recession or even a recession at all, and inflation moderates but not below the targeted two per cent and stays in the four-to-five-per-cent range? Why would central bankers reduce interest rates should this play out? Why is their target two per cent? Isn't it about having positive real rates?
We think with China's economy reopening, continuing wage hikes due to demographic trends and persistent large fiscal-deficit spending by left-leaning governments in the developed world will all provide a floor to just how low inflation will fall and, with it, interest rates without sending the world into a recession.
You are reading: Where investors might want to look if interest rates and inflation persist
We are already seeing hints of this taking shape.
The stock price of Caterpillar Inc., which is a go-to bellwether of the health of the global economy, is now back to all-time highs. During its third-quarter conference call, management indicated it is witnessing increased sales across all regions and business lines. Shares of LVMH Moet Hennessy Louis Vuitton SE, the Paris-based conglomerate specializing in luxury goods, are also setting new all-time highs.
Readmore : 'Don't Say Gay' law sponsor charged with pandemic aid fraud in Florida
While in the early stages, global commodities are showing some strength, with copper now up more than 25 per cent from its July 2022 lows, SGX TSI Iron Ore up nearly 60 per cent from November, and RBOB Gasoline Futures up over 23 per cent from December.
This could make it extremely difficult for central bankers to reduce interest rates back to 2020 levels, despite the tremendous pressure being exerted on them by their respective governments, which are eager to keep borrowing and spending on agendas such as climate change after having been given a taste following the COVID-19 lockdowns.
Should this transpire and inflationary pressures persist, there will be an acceleration of the movement of capital away from high-growth sectors toward those companies and sectors that offer strong cash flows even in a higher-rate environment.
As a result, we would recommend looking once again at good old-fashioned value plays that have underperformed for the greater part of the past decade such as energy, some parts of health care, industrials, finance, consumer staples and utilities.
Readmore : Rich Chinese people fleeing country after Xi Jinping re-election: Report
Or, as Yasunari Kawabata, a Japanese novelist and short story writer, so eloquently said in Palm-of-the-Hand Stories, "The true joy of a moonlit night is something we no longer understand. Only the men of old, when there were no lights, could understand the true joy of a moonlit night."
Martin Pelletier, CFA, is a senior portfolio manager at Wellington-Altus Private Counsel Inc, operating as TriVest Wealth Counsel, a private client and institutional investment firm specializing in discretionary risk-managed portfolios, investment audit/oversight and advanced tax, estate and wealth planning.
_____________________________________________________________
_____________________________________________________________