Three men from Quebec now face 12 counts of fraud over $5,000. All are scheduled to appear again in court this week.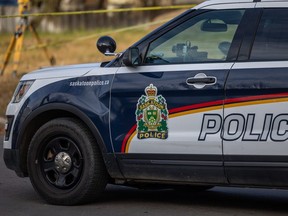 Two men from Quebec charged in connection with a "grandparent" scam targeting Saskatoon residents are now accused of being involved in organized crime.
Saskatoon police on Monday announced investigators in the economic crime section have laid four additional counts of fraud over $5,000 against each of the three men as a result of its continued investigation. That brings the total numbers of fraud counts to 12 against each of the accused.
You are reading: Saskatoon police allege two men charged in 'grandparent scam' were involved in criminal organization
On Jan. 10 and Jan. 11, Saskatoon police arrested and charged three men with 10 counts of fraud over $5,000 in connection to reports made to Saskatoon police. Charged are Ahmad Ebadi, 25; Sofyane Elgamal, 25; and Cedric Boivin Oligny, 26. Elgamal and Oligny were also charged previously with possession of proceeds of crime over $5,000.
Readmore : LETTER: Water levels affecting Southern Lakes
An amount estimated to be in excess of $100,000 is alleged to have been taken.
The two 25-year-old men were additionally charged on Jan. 19 with committing an indictable offence for the benefit of a criminal organization. Police said one of the men was also charged with recruiting for a criminal organization, which a police spokesperson later confirmed to be Elgamal.
On Monday, Ebadi appeared in Saskatoon provincial court and was remanded until his next court appearance on Wednesday.
Elgamal and Oligny are remanded to their next scheduled appearance in Saskatoon provincial court on Tuesday.
Readmore : SCO's Regional Anti-Terrorism Structure approves measures to counter threats posed by terror groups operating from Afghanistan
Police have received multiple reports in recent weeks of people being victimized, having given money to a man claiming to be a courier, bailiff or bail bondsman.
Police said the scam involved a potential victim, often an older adult, receiving a phone call from someone claiming to be a family member in an emergency and requiring money for bail or hospital bills. The victim could also be contacted by a second person claiming to be an authority like a police officer, lawyer or doctor. The suspect(s) had personal details regarding the victim's family and friends upon initial contact, and consistently requested amounts in the $9,000 to $9,800 range.
Saskatoon police are encouraging anyone who has received a suspicious call they suspect is related to fraud, even if they haven't been victimized, to call the Canadian Anti-Fraud Centre. Anyone who is the victim of a fraud is asked to contact the Saskatoon Police Service.
The investigation is ongoing. Police have said additional victims may be identified and additional charges laid.