"I could have easily gotten a few more higher-end players had we been willing to move some of our top '05s, and that just was never even a consideration for us."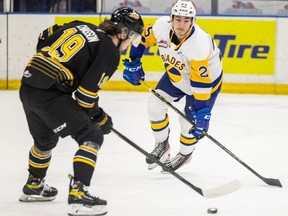 Colin Priestner kicked some tires on a few potential deals at the Western Hockey League trade deadline, but walked away with just one acquisition.
Priestner even tried to squeeze one last-minute deal — "a long-shot" as he later described it — but his offer for a high-profile forward got rejected.
You are reading: 'Insane market': WHL trade deadline behind, Blades hope to be in driver's seat come playoff time
The Saskatoon Blades general manager, whose family runs an auto dealership business, used a car analogy to describe this year's WHL trade deadline landscape.
"The market was insane," said Priestner, whose Blades returned to action Wednesday night against the Portland Winterhawks after acquiring forward Jake Chiasson from the Brandon Wheat Kings.
"The market is what it is. My family's in the car business so anybody who's tried to buy a car in the last two years when there's zero cars on the lot and they say, 'You can have that yellow one with no sun roof and no GPS and you're going to pay $10,000 over what you would have a year ago' — that's kind of the market that was out there for players.
Readmore : Matheson: Oilers can score, but they struggle defending
"There weren't many sellers. A lot of the teams that are in the middle decided to either buy a little bit or stand pat because they want to have meaningful games after the COVID years. They want to compete and try and show their fans that they're not just tanking the season. I could have easily gotten a few more higher-end players had we been willing to move some of our top '05s, and that just was never even a consideration for us."
Chiasson — a 6-foot-2, 188-pound Abbotsford, B.C. product — joins the Blades after recording 10 goals and 18 assists for 28 points in 37 games with the Wheaties this season.
The Blades added Chiasson in exchange for a 2023 first-round pick and two second-round picks (2025, 2026).
At least two other potential deals for a forward fell through for the Blades, who entered the week down four forwards sidelined by injury. It was a seller's market, however, and the prices teams were willing to pay was exceedingly high.
"I think it was a confluence of factors: MemCup year and some wild, kind of selling-of-the-farm of teams where they're kind of showing no regard for the future, and it's tough to compete with that in the market where we're a team that's always promised our fans that we wouldn't be that team," offered Priestner.
"We want to be good every single year. We're great this year, I believe, and I think Jake makes us that much better, but I would never do anything to jeopardize the franchise going forward to leave us completely bare of first-rounders and picks like that."
Readmore : Laval dashes Western Mustangs' homegrown Vanier Cup dreams
The Blades were blessed with the luxury of having extra draft capital to play with at the deadline and they utilized that in the Chiasson deal.
"It was great," admitted Priestner. "I'm really, really happy to be able to use it on a guy like Jake. What we've got, and what we gave up to get Jake, was pretty much similar to what we got for (Brad) Lambert (whose rights had been traded to the Seattle Thunderbirds for four WHL Prospects Draft picks, including a conditional first-round pick in 2023 and a second-round pick in 2024 that have since come to fruition after the NHL's Winnipeg Jets sent their prospect to Seattle), which was a Euro pick in a pandemic where no Euros were coming. In that sense, it was really good business for us.
"Even if we didn't have guys down, I think we're looking long-term here as to what our team looks like in March-April-May, the positioning getting there is important. We felt this group deserved the opportunity to add a top-end player. "
Priestner stressed that he didn't want to trade anybody off the team's current roster.
"I didn't want to subtract anybody," he said. "Everybody has their role, even if they don't play a lot or if they're a healthy scratch at times. They all mean something to us. They all factor into the future if not so much today, so it was important to keep the group together."
Priestner sees some "giant attendance games" coming up, starting with the Seattle Thunderbirds visiting Saturday night with the likes of world junior hero goalie Thomas Milic and fellow world junior gold medallists Kevin Korchinski, Nolan Allan and Reid Schaefer, along with former Blade Kyle Crnkovic and newly acquired Lambert.