Data for early January show influenza cases are declining after an earlier-than-usual peak in late November and early December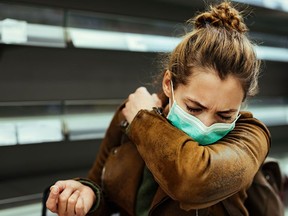 A flu season that started early is also winding down as the new year has barely begun.
The B.C. Ministry of Health provided an update on respiratory virus season on Friday, showing that influenza cases are already declining after an earlier-than-usual peak in late November and early December.
You are reading: Flu season is already winding down, says B.C. Ministry of Health
The provincial health officer, Dr. Bonnie Henry, said there have been no reported deaths of young people since December, after B.C. had six deaths among children during the early spike in flu cases.
"We have not seen any additional deaths beyond the six that were initially reported that we linked to influenza early on," she said at a news conference. "That's important."
Cases of RSV, or respiratory syncytial virus, remain high, while COVID-19 has been relatively stable.
Readmore : Vyazma: From the cauldron of war to a spiritual center
B.C. had 10,106 people in hospital for all reasons on Friday, down more than 100 from a week earlier. That's despite a traditional uptick in hospitalizations in January due to respiratory viruses and surgeries ramping up after the holiday slowdown.
Flu cases have dropped from a peak test positivity rate of 27 per cent in late November to about five per cent in the first week of 2023.
But the Health Ministry cautions that as influenza A cases are decreasing, historically there have been increasing cases of influenza B later in the season. Public health officials continue to do testing to keep watch on all forms of respiratory viruses, including both types of influenza, RSV and COVID-19.
Officials also carry out wastewater surveillance to detect what viruses are circulating; monitor data on hospitalizations, viral outbreaks in health-care settings — including long-term care facilities — and the number of visits to health-care providers across the province. Whole genome sequencing is also done to keep track of what variants of viruses are out there.
RSV cases are still high, though they have levelled off in recent weeks. Test positivity rate remains at 14 per cent, nearly three times flu test positivity. And COVID-19 activity has been mostly stable since October, with decreasing hospitalization numbers.
Readmore : The Inspiring True Story Behind Netflix's The Swimmers
From Jan. 1 to 7, there were 661 new cases of COVID-19 reported, 24 of which were confirmed to be caused by the XBB 1.5 variant that's spreading rapidly in some parts of the world.
"There is no evidence that this subvariant is causing more severe illness and there's very good evidence our vaccines are still providing strong protection from serious illness and death, especially if you've had that bivalent booster," said Henry.
Though mostly on the wane, respiratory virus season is expected to continue into March.
Vaccinations are at 90 per cent of people 12 and older for two doses of the COVID-19 shot and 61 per cent for a booster dose. About a third of people six months and older in the province have gotten a seaonal influenza vaccine.
— With a file from The Canadian Press
---
For more health news and content around diseases, conditions, wellness, healthy living, drugs, treatments and more, head to Healthing.ca – a member of the Postmedia Network.