Law enforcement are taking the claim seriously and now searching the Iowa property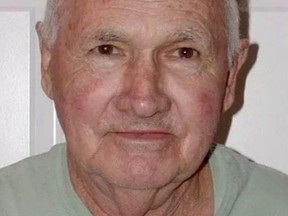 One sister is claiming that their dead dad was a ruthless serial killer. The other claims her father's good name has been sullied.
Donald Dean Studey died in 2013 at the age of 75 so he can't answer any questions.
You are reading: WAS DAD A SERIAL KILLER?: Sisters go to war over murder claims
Lucy Studey also told the magazine that their father got his daughters to help move the bodies of the victims buried near a well on the family's Iowa property.
Nonsense, older sister Susan Studey told the magazine, saying their father was strict but not a serial killer.
"My father was not the man she makes him out to be," Susan Studey told Newsweek. "He was strict, but he was a protective parent who loved his children … Strict fathers don't just turn into serial killers."
However, law enforcement are taking the claims seriously and are now searching the property.
Readmore : High-level U.S. diplomatic mission to Middle East overshadowed by violence
"I know where the bodies are buried," Lucy Studey told Newsweek. "He would just tell us we had to go to the well, and I knew what that meant. Every time I went to the well or into the hills, I didn't think I was coming down. I thought he would kill me because I wouldn't keep my mouth shut."
Cops say that two cadaver dogs have sniffed around the property and gotten two hits.
RECOMMENDED VIDEO
According to cops, they began talking to Lucy Studey in 2021 and the cadaver dogs give her story some credibility.
And Donald Stubey was no stranger to law enforcement. He is suspected of luring vulnerable women — sex workers or transients — and killing them on his two-hectare farm.
He also had a long criminal history in trafficking guns and drugs.
Lucy said her father was an angry drunk who would smash or kick the women's heads. She added that she had told her tale to teachers and preachers in the past but no one believed her.
Readmore : Blinken hosts Armenia and Azerbaijan diplomats to boost US mediation role
Neither does her sister.
"I'm two years older than Lucy. I think I would know if my father murdered," Susan said. "I would know if my dad was a serial killer. He was not, and I want my father's name restored."
Both of Donald Studey's wives took their own lives.
Lucy claims the victims their father trolled in Omaha, Nebraska, were young, white and all had dark hair. He kept gold teeth as trophies, she said.
She added: "I don't feel anything for my father. Nothing at all. I wanted justice when my father was alive, but he's gone. I just want for the families some closure and a proper burial."
Aistrope concurred: "I believe her 100% that there are bodies in there."