With NFL's in-season trade deadline hours away, Baltimore sends second- and fifth-round draft picks to Chicago to obtain Smith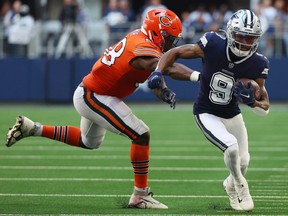 About 24 hours before the NFL's in-season trade deadline, Baltimore acquired another impact linebacker for its defence.
Capping a busy October for trades, on Monday the Ravens acquired the Chicago Bears' premier defender — linebacker Roquan Smith — for 2023 Round 2 and Round 5 draft picks. 
The 25-year-old is the NFL's leading tackler in 2022, with 83. This, after ranking fifth in tackles last year (163) and sixth in 2020 (139). In five pro seasons, all with the Bears, Smith additionally has 20 QB hits, 16.5 sacks, 20 pass breakups, 47 tackles-for-loss and seven interceptions. 
Smith will partner with Patrick Queen to form a solid, if not spectacular, linebacking duo on the Ravens. 
One of Smith's former Bears teammates, Brent Urban of Mississauga, a defensive lineman in Baltimore, no doubt reflected all Ravens defenders' excitement when he tweeted: 
"Rooooooo let's goooooooo." 
The NFL's in-season trade deadline is Tuesday at 4 p.m. EDT.  
Numerous players and teams are reportedly deeply involved in trade discussions. Yet more big-name players might yet swap teams, even involving teams that before the past day or two had professed to being sideline observers only amid all the trade-deadline hullabaloo. 
Such as the Dallas Cowboys. 
"Obviously, we're very much in the thick of a championship run this year, so absolutely," Cowboys executive VP Stephen Jones told a Dallas radio station on Monday. "If we see the right situation … we'd be more than willing to pull the trigger." 
Stay tuned. 
FIVE FAST FACTS
Points scored by AFC South teams over the past two weeks: 20, 19, 17, 17, 17, 16, 10, 10 … Tyreek Hill has four of the top nine receiving-yards games so far (190, 188, 177, 160) … Eagles and Jets are the last undefeated teams on the road … Eagles, Bills and Vikings are the last undefeated teams at home … Chicago ranks first in rushing offence, last in passing offence. 
DEAL WITH IT 
Little has gone right this season for the supposedly improved Las Vegas Raiders. 
Maybe the only reason new head coach Josh McDaniels isn't under more fire — at least externally — is because equally whiffing Nathaniel Hackett, new head coach of the Denver Broncos, has been running interference, if only because his under-achieving team (at least record-wise, and offensively) has been arguably even more of a disappointment. 
The Raiders dropped to 2-5 following Sunday's dispiriting 24-0 shellacking at New Orleans, a 2-5 team coming in. Only the Houston Texans (1-5-1) have fewer wins in the AFC than the Raiders. 
McDaniels' team flew to Florida after Sunday's loss and will practise there prior to playing at 2-6 Jacksonville on Sunday. 
A report said the former long-time New England Patriots offensive coordinator met with Raiders owner Mark Davis for an exceedingly long time following Sunday's defeat, although Davis felt compelled to release a statement Monday saying McDaniels' job is safe for "years" to come. 
On Monday, Daniels resorted to coach-speak clichés in insisting the season is not over. 
"Absolutely. It's a long year. I believe we haven't reached our best football yet," he said. "It's going to take work and progress and improvement in order to do that. At this point in time, nobody has qualified for anything, and nobody has been eliminated. 
"There's a lot of things that we need to do better … to earn better results. Consistency is going to be what we're trying to push for … Our goals are still out there. We're going to need to coach better and play better to earn them." 
Offensively, Las Vegas ranks 16th in total yards (341 per game), 17th passing (225), 18th rushing (116) and 13th in scoring (23). 
Defensively, Las Vegas ranks 25th in total yards allowed (367 per game), 25th in passing (258), 10th in rushing (109) and 25th in scoring (25). 
The shutout loss to a bad Saints team must have galled Davis as much as it did Raiders fans. 
"If you coach or play long enough, you're going to have one or two of these," McDaniels said. "There are a lot of teams that go through this." 
Not good ones. 
TAKING A KNEE 
Sunday night's meaningless, childish spatting between Buffalo Bills wide receiver Stefon Diggs and Green Bay Packers cornerback Jaire Alexander was not a good look. 
For the league, and especially for the two players. 
All it accomplished, really, was to drag trash-talking and in-your-face crowing to new lows — pre-game, in-game and post-game. And that's saying something. 
Before the game, as Packers players at Buffalo's Highmark Stadium were about to exit the singular entry tunnel to head to their sideline, Diggs ran down, caught up to the throng of Packers players, and got right in the face of Alexander, apparently just to talk trash and tell him who was boss, etc. 
Throughout Buffalo's 27-17 win, the two players exchanged overcooked boasts and verbal shots, to sometimes surprising degrees. Neither ever was flagged. Perhaps both will be fined, especially Diggs, an all-pro level wideout the past few seasons, for his over-the-line pregame actions to get right into Alexander's face upon among Green Bay team members at the mouth of the tunnel. 
Who won the night between them — on the field, that is?  
First, know that Alexander, per the official play-by-play chronology, did not cover Diggs much at all. In fact, it was Green Bay's other starting cornerback, Rasul Douglas, and not Alexander, who wound up marking Diggs on his two biggest catches of the night — his 26-yard touchdown lob from Allen, and a deep 53-yarder, both in the second quarter.  
Douglas, not Alexander, seemed to be the Packers cornerback most often tasked with covering Diggs. 
Diggs did catch a game-high six passes, for a game-high 108 yards and a touchdown, so he certainly wasn't a loser on the field. 
But neither was Alexander, who snared one of two late interceptions tossed by Buffalo's QB extraordinaire Josh Allen — although that pass was intended for Gabe Davis, not Diggs. What's more, Alexander broke up a game-high four passes.  
So both men could talk smack if they chose to afterwards. And for a livin' fact, both did. Each claimed 'victory.' 
"Told him he couldn't mess with me. He a li'l boy," Alexander told reporters in the Packers locker room. 
Who started all the absurd posing, posturing and trash-talking? 
"I don't give a f*** who started it," Diggs said afterwards. "I finished it. I got the win." 
Actually, neither was a winner as this senseless, childish tiff played out on prime-time TV. 
Diggs came off the field at one point showing teammates and coaches he had literally bit his tongue.  
He should have figuratively done that much earlier in the evening. Alexander too. 
Lions fire secondary coach
The Detroit Lions fired secondary coach Aubrey Pleasant on Monday. 
One day after the pitiful Lions defence allowed another quarterback (Miami's Tua Tagovailoa) to pick it apart, aerially, Detroit head coach Dan Campbell announced the move. 
Reports out of Detroit said Pleasant was well-liked and ever-energetic.  
But, as Campbell pointed out, the NFL is a "production-based business" and the Lions secondary has been awful since Week 1. The Lions rank last in yards-per-attempt allowed (8.4), last in opposition passer rating (108.4), last in opposition completion percentage (69.3) and tied for second last in interceptions (two). 
QUARTERBACK RANKINGS 
All 32 starting QBs, after Sunday games, with last week's rankings in brackets: 
1. Josh Allen, Buffalo (1). Amazing early, but reckless late. 
2. Patrick Mahomes, Kansas City (2). Idle in Week 8. 
3. Joe Burrow, Cincinnati (3). Played Monday night. 
4. Jalen Hurts, Philadelphia (4). A.J. Brown, what a gift!  
5. Geno Smith, Seattle (5). Did it again. Helluva comeback. 
6. Tom Brady, Tampa Bay (6). Leads NFL in pass yards. 
7. Aaron Rodgers, Green Bay (7). Will he get WR help now? 
8. Justin Herbert, L.A. Chargers (8). Idle in Week 8. 
9. Tua Tagovailoa, Miami (9). Fantastic in all four quarters. 
10. Dak Prescott, Dallas (10). He needed this breakout game. 
11. Kirk Cousins, Minnesota (12). Another narrow victory. 
12. Lamar Jackson, Baltimore (13). Woeful aerially at Bucs. 
13. Matthew Stafford, L.A. Rams (14). Needs. More. Help. 
14. Kyler Murray, Arizona (15). Just not a two-minute QB. 
15. Derek Carr, Las Vegas (11). This is a nightmare season. 
16. Jimmy Garoppolo, San Fran (17). Must love McCaffrey. 
17. Russell Wilson, Denver (30). Finally flashing his old self. 
18. Andy Dalton, New Orleans (24). Might be way too low. 
19. Jared Goff, Detroit (16). What happened after halftime?! 
20. Daniel Jones, N.Y. Giants (20). Where'd good luck go? 
21. Taylor Heinicke, Washington (25). 2-0 now as starter. 
22. PJ Walker, Carolina (26). Heroic in undeserved defeat. 
23. Mac Jones, New England (23). No better than Zappe. 
24. Marcus Mariota, Atlanta (27). First place in NFC South. 
25. Davis Mills, Houston (22). Ten points just won't cut it. 
26. Trevor Lawrence, Jacksonville (19). So up-and-down. 
27. Jacoby Brissett, Cleveland (28). Played Monday night. 
28. Justin Fields, Chicago (31). Maybe improvement is real. 
29. Zach Wilson, N.Y. Jets (21). WTH was that? Regression. 
30. Kenny Pickett, Pittsburgh (29). Had no chance at Philly. 
31. Sam Ehlinger, Indianapolis (NR). Wasn't awful, at least. 
32. Malik Willis, Tennessee (NR). Trusted to throw 10 times. 
THIS WEEK 
Quick thoughts on Week 9 games (all on Sunday unless noted): 
Eagles at Texans

, Thursday, 8:15 ET: Best team in the league, arguably, against the worst, arguably. Eesh. 

Chargers at Falcons

, 1 ET: Justin Herbert's eyes have to be THIS BIG, as Atlanta fields the NFL's worst pass defence. 

Dolphins at Bears

, 1 ET: Seven days after Dallas put up 49 points, Chicago now must contend with Tua, Tyreek and crew. 

Panthers at Bengals

, 1 ET: Can't write off Carolina now that QB PJ Walker rightfully should be 2-0 as starter. 

Packers at Lions

, 1 ET: If there's a time-honoured fix for anything that ails a Green Bay attack, it's a Detroit defence. 

Raiders at Jaguars

, 1 ET: Maybe the dud game of the year thus far. Both offences coming off epic-fail performances. 

Colts at Patriots

, 1 ET: Sam Ehlinger vs. Mac Jones. Not quite the same as Manning vs. Brady, is it. Hooboy. 

Bills at Jets

, 1 ET: Raise your hand if you seriously believe Zach Wilson (if healthy) will play all four quarters. Anyone? 

Vikings at Commanders

, 1 ET: Kirk Cousins returns to Washington. You like that? I mean, YOU LIKE THAT?!?!! 

Seahawks at Cardinals

, 4:05 ET: Just two weeks ago Seattle shut down Kyler Murray and crew, 19-9.  

Rams at Buccaneers

, 4:25 ET: Rematch of January's NFC divisional playoff thriller. Neither team nearly as good now. 

Titans at Chiefs

, 8:20 ET: AFC South leader against AFC West leader. Thing is, Tennessee can barely score … Exactly. 

Ravens at Saints

, Monday, 8:15 ET: Another prime-time game for aerially struggling Lamar Jackson. Take Saints? 
BYES: Browns, Cowboys, Broncos, Giants, Steelers, 49ers.