In the first episode of Our War, the great-great-granddaughter of Samuel Daniel Watts searches for a lost war memorial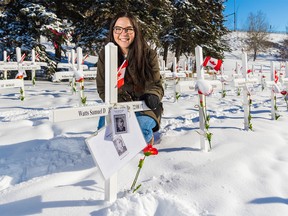 Calgarian Stephanie Watts said her life was changed after participating in a History Channel documentary to find out more about her great-great-grandfather, one of Canada's first Black servicemen.
"As a family, we knew very little about Samuel. I had a couple pictures and knew he was in the military. Growing up, I would always ask questions and no one knew the answers," said Stephanie.
You are reading: Documentary unravels story of Calgary serviceman and missing 'death penny'
To find out more about Samuel and search for the lost death penny, Stephanie joined the History Channel documentary Our War and worked with the production team and a number of experts. In the episode, she travels across Alberta and learns more about how Samuel, who was an emerging musical artist, found himself at the front lines of some of Canada's most famous battles.
"The whole process of this and meeting all of the experts have really brought home how impactful Samuel was in his short life," said Stephanie on Wednesday.
"Even though I never met him, this journey has brought a connection — it's kind of weird to say you have a connection with someone you've never met — but this has brought that connection to Samuel closer to me."
As the show was filmed earlier this year, Stephanie said she discovered more about her great-great-grandfather's sacrifice in the war, the discrimination he faced as a Black enlistee and the priceless value of Samuel's legacy of service. One of the most impactful things she learned was about the barriers Samuel had to break down and how he pursued service to his country.
Readmore : George Stephanopoulos has finest response when requested if he'll seem on Dancing with the Stars
"The story has impacted my life in ways that I never thought possible. I've actually made some changes in my life and gone after things that I normally would not have, and it's Samuel's story that inspired that," said Stephanie.
She hopes Samuel's story inspires her son after hearing his history.
"I get emotional thinking about it. As a descendant, it's one thing for me to be proud of who Samuel was, but to see that through other people's eyes and to see his story through others was really special," she said.
The History Channel documentary tells the stories of four Canadian families who seek to know more about their ancestor's contributions in the First or Second world wars and unravel the mysteries of their service.
Erin Haskett, president and executive producer of Lark Productions, said the intention of the series is to connect a modern-day generation with their ancestors in a meaningful way.
"And, yes, it's a mystery and, yes, it's an investigation to learn more about the service and the contributions their ancestors made in World War One and World War Two," said Haskett. "But what can be found across the board is that there is this true family connection that gets unlocked in this process of further understanding who they were.
Readmore : 'Love Island USA' stars predict winners: Zeta and Timmy or Sydney and Isaiah?
"For viewers, what we're hoping is that this is a bit of a call to action for them to sort of find their own family stories and piece together their own ancestors' journeys."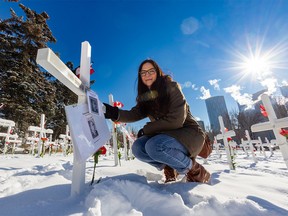 She said the show touches on many descendants' questions, such as why their ancestors chose to serve and who they served with.
Haskett and Stephanie said anyone interested or inspired to learn more about their ancestors should start looking into it, and find outside resources or local historical societies that might like to help.
"There are people out there who are willing to help you and they love sharing that information and they're passionate about it. It can be daunting at times and it can feel overwhelming, but just don't give up," said Stephanie.
Haskett said there is information to be found and all sorts of resources available.
"The show will be a conversation starter between generations, which is something I'm looking for on Remembrance Day because that's the way we can remember, to share those stories and those legacies," Haskett said.