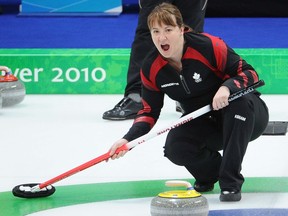 It's been a while for Susan O'Connor.
Try eight years.
You are reading: Calgary curler Susan O'Connor returns to sport at Autumn Gold
But one of Calgary's most decorated curlers has returned to competitive action in her home city this weekend at the Autumn Gold Curling Classic.
"We're back," said the 45-year-old O'Connor with a big smile. "But not in a chasing-points-kind-of way. Just in a really-missing-competing way. 
"And I found a group of women that are kind of in the same spot. We're not necessarily playing every weekend to chase points but really still are very competitive, and we have that drive to do our best and work hard and just enjoy the game.
"I'm really excited to be out there and be competitive."
Those around the formidable third are excited, too, including the event's committee members.
The silver medallist of the 2010 Winter Olympic Games in Vancouver — joining skip Cheryl Bernard, second Carolyn Darbyshire, lead Cori Bartel and alternate Kristie Moore for Canada's curling celebration — is a welcome jewel for the 44th Autumn Gold, the women's spiel featuring 31 teams that runs four days through Monday at the Calgary Curling Club.
Readmore : There's nothing humorous about pretending to return out, Casillas and Puyol
"I don't even know if anybody even recognizes me any more, especially some of these young kids," said a chuckling O'Connor, amid many lesser experienced curlers participating in the $44,000 event. "People have short memories. I'm certainly really proud of what I've accomplished. And I hope maybe, at some point, I've inspired some younger players."
It's hard not to think she has with the resumé she boasts.
Not only is she an Olympian, but O'Connor is a national women's champion, a world mixed doubles competitor, a two-time Alberta Scotties queen — in 2007 and 2009 — and a six-time player at the Canadian Scotties championship. 
But her last competitive year of high-level curling came in 2014, when the legendary Bernard rink called it quits.
Since then, she's been an alternate for key events and a mentor to highly successful teams skipped by Calgary's Chelsea Carey and Lethbridge's Casey Scheidegger. 
Plus, O'Connor's been busy working at a city hospital as a respiratory therapist — a much-needed front-line role in the health-care system the last few years — so that's also kept her from any significant on-ice efforts.
"I love the game — I love being part of it," said O'Connor, reflecting on how she's stayed in the sport without taking on full-time on-ice duties. "Just those opportunities arose and perhaps maybe coaching will be in my future. So it was kind of a transition between those things to be on the bench of high-level stuff and see more of the warm-side-of-the-sheet things, as well.
"I think all of that is helping me to be a better curler, too."
Readmore : Hughes makes an influence in return to Riders' lively roster
It's been enough to draw the attention of fellow Olympian Moore, herself a decorated curler from Grande Prairie with an Alberta women's victory as skip in 2013 and two more such titles as lead and second respectively with Scheidegger in 2018 and Heather Nedohin (nee Godberson) in 2000.
"Being at the end of (an Olympic) quadrennial, there wasn't probably a lot of opportunity to jump on a team," O'Connor said. "So with the shuffling that happens at the start of the quadrennial, Kristie reached out to me. She wasn't going to carry forward with Team Scheidegger. We chatted a little bit, and she asked 'If you were to play, who would you want to play with and how much would you like to do?' And it just aligned. 
"And we know each other well. She's been our alternate at the Olympics, and I've been with her as an alternate with Team Scheidegger. So there's definitely a comfort level there, even though we haven't 'played' played together."
With help from this weekend's appearance in the Autumn Gold, Moore and O'Connor — along with a "solid, hard-working' front end of second Janais DeJong and lead Valerie Ekelund — hope to get it together for, at least, a shot at the Alberta Scotties come the new year.
"What we have said is that we would like to take a good solid run at provincials," O'Connor said. "We're probably not playing enough to be peaking now. But we feel like we've got the talent that if we put it all together, we'd like to take a run at provincials, so that has been our focus. Every time we step on the ice, we want to win, and I think that we've got the talent to do it."
Beginning, perhaps, with her home-town event this weekend.
"This is the one spiel I've probably never won in my lifetime," added O'Connor. "So maybe I'll just keep coming back until somebody lets me win this thing."
EXTRA ENDS
Scheidegger topped Kaitlyn Lawes 6-4 to capture one playoff spot from the A side Saturday, while Calgary's Kayla Skrlik upended South Korea's Eun ji Gim 7-3 for the other berth out of the A event … Sunday's third day at the CCC features draws at 9 a.m., 12:45 p.m., 4:30 p.m. and 8:15 p.m. Two B-side winners will be determined from the earlier draws, while the evening draw will decide the four C-event qualifiers for playoffs … The event concludes Monday with the eight-team playoff action beginning at 9 a.m. and concluding with the championship final at 3:30 p.m.