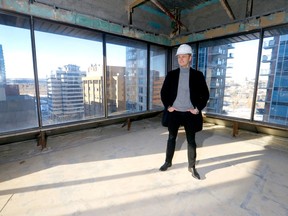 Local problems usually require local solutions.
And they always need local commitment.
You are reading: Varcoe: West side story for downtown Calgary needs a big role for local players
For Maxim Olshevsky, this means tackling some of the persistent problems in the west side of downtown Calgary.
The managing director of Peoplefirst Developments has a personal connection to the area — having lived there as a teenager — while the firm has a $38-million downtown project that aims to turn the old SNC-Lavalin building into a rejuvenated structure with more than 100 apartments in the neighbourhood.
"My experience comes from a very child-like experience of just growing up in the area and then seeing that neighbourhood transform over time. Of course, you know, it's no secret that certain parts of downtown are not ideal," said Olshevsky, whose family moved to the city from Ukraine in 2000.
"However, as the time passes and the work on improving this area of town (continues), it will just get better and better."
As efforts to revitalize Calgary's downtown accelerate, the western side of the city's core is now squarely in the sights of policymakers and local business leaders.
It's the epicentre for some of the toughest challenges facing the downtown: high office vacancy rates, businesses shuttered during the pandemic, a lack of vibrancy, safety concerns and more tenants leaving older buildings for newer offices.
"The real estate environment in Calgary's downtown core tells a tale of two downtowns," states a report prepared for the provincial government earlier this year.
"This means that Calgary's office vacancy issue is very much a story of a west-end reality and a lower quality property reality."
The study by the Calgary Office Revitalization and Expansion (CORE) working group pointed out that more than half of the overall office vacancy in Calgary is from buildings located west of 5th Street S.W.
More than 90 per cent of the city's older Class B and C office buildings are situated in this area.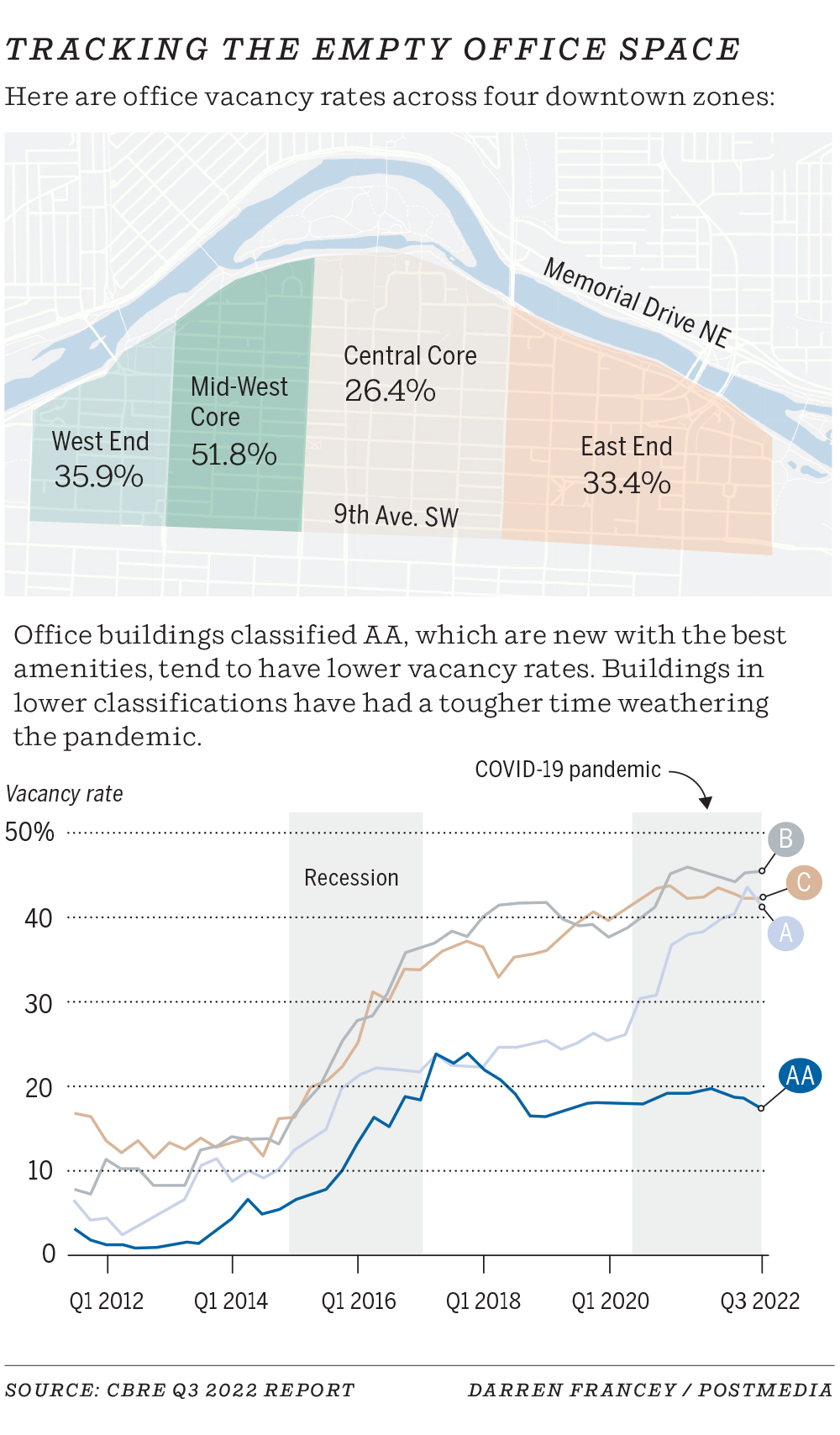 While tenants are relocating into newer, more desirable office space in other parts of the downtown, older structures with fewer amenities are struggling.
And why should this matter to Calgarians?
"The answer is that the status quo leads to a hollowed-out west end of downtown, a lack of vibrancy overall, no increase in property tax revenues for the city and the province, and little to no capital investment from institutional or private capital," the report bluntly states.
This is a part of the reason why a $100-million city program — that provides grants to property owners to convert older office towers into residences — has already selected west-end buildings to move ahead with conversions.
Three of the first five projects approved by the city this year are congregated within a few blocks of each other in the western end.
It includes the Peoplefirst Developments project at 909 5 Ave. S.W., which will convert 104,000 square feet of office space into 112 units, including two- and three-bedroom apartments.
Readmore : King Charles III won't attend Cop27 as Liz Truss denies making order
"That's an area of downtown that absolutely needs sunlight, vibrancy and more things to see and do," said Susan Thompson, associate director of research at Colliers International.
"It's bringing in all of that — and that (project) just really excites me because it's a local person who wants to see Calgary thrive and get back to where it used to be."
According to data from Colliers, several large office towers in the area are more than 70 per cent vacant, including the Western Canadian Place north tower, the former Nexen building (a 37-storey skyscraper on 7th Avenue S.W.) and First Alberta Place.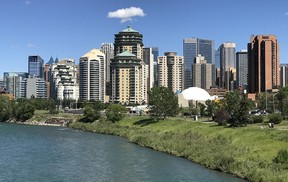 "It's an area that suffers from lack of place-making and purpose and identity," Thompson said.
Civic leaders know a broader vision for the entire west end is needed, similar to the strategy that successfully guided the East Village's transformation.
Officials at city hall say three more office conversion projects have been tentatively approved for funding and will be announced, likely early in the new year, and will include at least one development in the west end.
The city also called in August for proposals from design firms to "reimagine" 8th Street S.W. between the Bow River and 17th Avenue S.W.
Thom Mahler, the city's director of downtown strategy, said the western part of Calgary's downtown was developed originally as a residential neighbourhood, but office structures popped up during the energy booms of the 1960s and '70s.
"There's a sense when you go there that you're not really sure what kind of neighbourhood this is — and it's that area that we're really starting to turn our mind to," Mahler said in a recent interview.
"We have for many years, but now it's become paramount."
According to commercial real estate firm CBRE, the vacancy rate at the end of the third quarter for the downtown's western end (situated west of 8th Street S.W.) stood at nearly 37 per cent.
In the mid-west core, which covers office buildings west of 5th Street S.W., the rate sat at an eye-popping 52 per cent.
While the office redevelopment program is helping, "it's a small step forward," said Greg Kwong, regional managing director for CBRE.
"There's just so much that needs to be done in the west side," he said.
"We need a catalyst, a demand generator, an anchor of some sort that kicks off that area. Otherwise, 10 years from now, we will be talking about the same thing."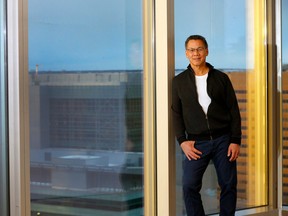 Big, bold ideas will be required.
The CORE report recommended the province offer financial and tax-based incentives for colleges and universities to expand or shift some faculties into the downtown.
"There's a multitude of benefits of having post-secondaries relocate to the core," said Ward 7 Coun. Terry Wong, who represents the downtown.
"We've got space in the downtown to build that community."
Readmore : Gen Z views remote working as an opportunity for career success
Bringing flagship entities, such as a large university faculty, to the neighbourhood would attract young people and increase the need for nearby student housing.
Opus Corp. CEO Hannes Kovac, co-chair of the real estate sector advisory committee at Calgary Economic Development, said there is demand for up to one million square feet of office space for post-secondary institutions in the downtown, such as for the University of Calgary, SAIT or Mount Royal University.
"Adding students and residents in the downtown will also address a major issue and that is safety," he said. "More people in the downtown at all different times of the day will help (combat) the feeling of an unsafe environment."
With some buildings either completely or nearly empty, such as the former Nexen tower, there are opportunities to create something ambitious in the west end, whether post-secondaries are centralized in one spot or spread across several buildings.
But it will take money.
The provincial budget in February provided $5 million to Calgary for downtown revitalization efforts, an amount Mayor Jyoti Gondek called a "pittance" relative to the city's investments.
Last week, the Calgary Chamber of Commerce called for provincial and civic governments to work with post-secondary institutions in an effort to open or expand downtown campuses and student residences.
In an interview, Premier Danielle Smith said she'll talk with the mayor about how the province "might be able to provide additional help and support" for the downtown.
"I'm of the view that it's better for us to assist in matching some of the initiatives that are driven by Calgary," Smith said.
As for providing provincial funds to relocate university and college faculties into the downtown, Smith said she would need to consult with post-secondary institutions.
"There's probably some merit to it. It may be that University of Calgary is quite happy having a continuous campus, but it could be that there are some other colleges that want to have a presence in Calgary," Smith added.
"I wouldn't want to pre-judge what it is the colleges and universities want to do."
It will require a long-term commitment to invest in the area, and more co-operation between various levels of government and local entrepreneurs, to refresh the downtown's west end.
It's no coincidence that many of the innovative ideas to adapt empty downtown offices are being driven by local property owners.
"People who are local, there's an element of passion for the city that creates inspiration — and really interesting ideas," said Mahler.
The three approved west-end projects will convert 355,000 square feet of older office space into housing, adding more than 400 residential units to the neighbourhood.
Work on the Peoplefirst project is scheduled to be done before the end of next year.
"I'm a strong believer that if you want the project to be successful, you have to be invested emotionally in it and not just financially," Olshevsky added.
''And I still believe Calgary is an unbelievable city to invest in."
Chris Varcoe is a Calgary Herald columnist.