Opinion: In the face of museum inaction, the risk of protester, bystander confrontation must be rising.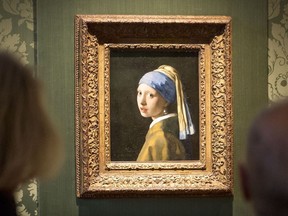 Upon seeing an icon of our heritage desecrated in such a manner there is, among those who believe that art and culture matter to our sense of who we are, a naturally strong emotional reaction. Emotion, however, may not be enough to protect these paintings longer term from such acts. Stronger, more decisive reaction is needed.  
While discussing the rising risks of escalation, we must also consider the more serious question of escalation from the activists themselves. The zeal on display in the museums of Europe is not governed by rationality. There should be serious concern that these art violations are the first step towards physical violence in the name of stopping oil. 
You are reading: Adam Pankratz: How long until anti-oil art vandalism turns to real violence?
Readmore : Coroner's workplace to research two fatalities exterior Inuit residence in Dorval
So, we could say, so far, so innocuous. A rich private school student doesn't immediately fit the bill of someone who will soon be committing acts of violence against people in the name of ecology. That view would, however, be naïve. 
Such violent escalations can be expected to continue if no serious response is provided by authorities to either the painting vandals or CGL criminals. In the European situation one has to wonder what it will finally take to prompt authorities and the population to action in stopping these extremists. The current cries from the activists when gluing themselves to the wall is "What is worth more: art of life?" Given the escalations, however, it is not entirely alarmist to ask if some innocent person will eventually get killed in the name of stopping oil. After all, if we extend the entirely false and dubious dichotomies of the current activists we can quickly arrive at "What is worth more: one life or a million lives?" A real possibility exists that in the end this is heading towards a sort of eco-war with devastating consequences. 
Readmore : Parks Canada cancels tenting occasion in Montreal amid criticism over unhoused individuals
Authorities need to show some backbone in dealing with the appalling behaviour of the museum activists. As it stands their actions are merely offensive and destructive to our sense of shared history and culture. But, as the British Columbian experience demonstrates, if we tolerate the thuggish, bully tactics currently being employed, they will not dissipate or disperse. Activists in our society have numerous avenues to share their ideas, express disagreement and displeasure and make themselves heard. When those legal and civilized avenues are extinguished, it is incumbent upon them as actors in society ruled by laws to accept the result and move on. The alternative leads us down a dangerous path to lawless, violent, anarchy wherein strong individual belief in a righteous cause justifies any means, including violence, in order to make a point. There's a word for that. It's called terrorism.
Adam Pankratz is a lecturer at the University of British Columbia's Sauder School of Business.