In Vancouver, several thousand protesters lined the Lions Gate Bridge, chanting the name of Mahsa Amini.
Protests were held across Canada on Saturday as the families of the victims of Ukraine International Airlines Flight 752 lent their voices to the worldwide calls for revolution in Iran.
In Vancouver, several thousand protesters lined the Lions Gate Bridge, chanting the name of Mahsa Amini, whose death after being detained by Iran's morality police in September sparked worldwide demonstrations.
You are reading: Thousands of protesters line Lions Gate Bridge to vent anger at Iran's regime
"Woman, life, freedom" became the rallying cry that marked their signs and clothing. They called for the downfall of the Islamic Republic, which, founded in 1979, enforces strict dress codes on Iranian women.
Some were mothers, fathers and siblings of those who were killed when Flight 752 was shot down by the Iranian regime shortly after takeoff more than two years ago.
Vahid Emami stood at the Downtown Vancouver entrance of the bridge, holding some of the last photos taken of his wife, Sahand Sadeghi, 39, and five-year-old daughter, Sophie. Emami was on his way to the Toronto airport to pick up his family, including two of his in-laws, when he heard the news of the plane's destruction. All of them were on Flight 752.
"Everything has been taken from me," said the 43-year-old who relocated to Vancouver last year because the pain of staying in his family home in Toronto became too great.
"I didn't know whether to stay or go … commit suicide," he told Postmedia News. "The only reason I stayed was because of them — to fight for change in Iran."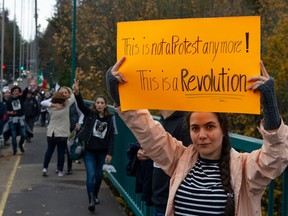 Readmore : WHO assertion on monkeypox is a 'name to motion,' professional says
Beheshteh Rezapour choked back tears while speaking of her daughter, Bahareh, who was also on Flight 752. She proudly wore a picture of the 33-year-old Toronto resident around her neck.
"They killed my beautiful daughter. I'm alive just for my son." said the mother, who migrated to Canada last year with her family. For them, Toronto held too many memories of Bahareh. They chose to live in Vancouver.
"It was hard for us to live in the country that killed my sister. She was visiting us on Christmas holidays," said Ali, 35. "The only goal we have now is to fight for justice."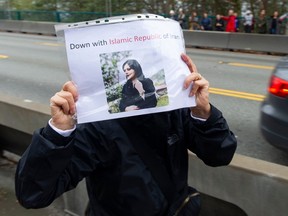 In Iran, at least 270 people have been killed in the latest protests over Amini's death that have swept over 125 Iranian cities, according to Human Rights Activists. Canada has moved to bar thousands of members of the Iranian regime and Islamic Revolutionary Guard from entering the country, imposing sanctions on 89 individuals and 177 entities including the regime's security, intelligence and economic apparatus.
However, Canada's government hasn't designated the guard as terrorists.
Soushiant Zanganehpour, an organizer of the Vancouver protest, is calling on Ottawa to do more to prevent more of the guard's officials and their affiliates from entering the country and threatening Iranians who are protesting within.
"There are a lot of regime officials and their families who systematically come here, some are even citizens," said Zanganehpour. "We are facing threats against our families, our lives, with people that drive by our houses at nighttime. I'm calling for stricter immigration policies, not just sanctions, but more investigations into who is here and why."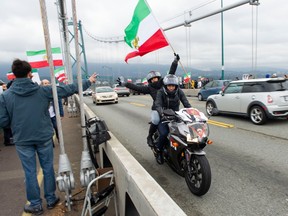 Readmore : Canada anticipated to complete evaluate of first COVID-19 shot for youngest children in weeks
Liberal MP Joyce Murray, who attended Saturday's demonstration, said Canada currently has one of the "strongest sanctions" in the world against the Iranian regime.
"We're going to continue to review what can we do and what can we do more of as time flows," she said.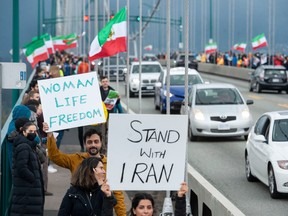 Meanwhile, Emami and Rezapour are committed to continuing to speak publicly about the suffering their families have endured at the hands of Iran's current regime.
"We have lost everything and have nothing else to lose," said Ali, emboldened by grief caused by his sister's killing. "We don't care about what happens to us. Right now, the regime is killing more Iranians and people are hearing us."