Report states management failures — not a global parts shortage — were at the root of last winter's failed bus service.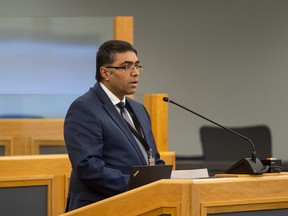 An auditor reporting directly to city council has determined management failures were behind last winter's frequent failures of Saskatoon Transit.
City of Saskatoon independent auditor Sohail Saleem found ineffective operations in Transit's parts department, poor governance processes and inadequate preventative maintenance caused the disruptions that left many stranded in the cold, waiting for buses that didn't come.
You are reading: City auditor reports on Saskatoon Transit winter service failures
Robert Clipperton, president of the Bus Riders of Saskatoon advocacy organization, urged the committee members to think of those people as they considered the report, noting many stranded passengers would have missed work, family time or even vital medical appointments due to the service failures.
Jim McDonald, who was transit director from 2015 through to the time of the service disruptions, was not at Monday's hearing. He left the City of Saskatoon for a position in Edmonton over the summer, prior to the completion of Saleem's report.
Readmore : Biden screws the frugal, America's actual polarization and different commentary
Saleem said his audit found no evidence McDonald or any other manager deliberately misled council. Rather, he said he was able to confirm information was not reviewed before it was relayed to residents and elected officials, and suggested this was an example of poor governance.
Terry Schmidt, the city's general manger of transportation, was asked why he didn't question McDonald's claims about the source of the problems. City manager Jeff Jorgenson stepped in to answer for him, saying general managers rely on department directors for accurate information, but investigate once they have reason to question that information.
The committee heard that Transit has made efforts to address the problems identified in Saleem's report. Chief among these has been putting Transit's stores department under the city's larger supply chain management arm. The committee heard this has helped address gaps in expertise on procurement and logistics that had contributed to problems.
This was also meant to help address poor governance — Saleem found, for instance, that a full inventory of all Transit's parts hadn't been completed since 2017, when best practice is to do these annually.
Schmidt also sought to reassure the committee that there will be better communication for bus riders should service go down. The committee heard about instances when cancellations of routes were only flagged for Transit customers after their buses' scheduled arrival times. Schmidt said there are also discussions about finding more ways for people to get information on bus routes.
Readmore : Meet Loblaw's driverless vans, now making deliveries round Toronto
Schmidt said work is also being done to better manage preventative maintenance. The committee heard of situations where some buses went as long as two years without oil changes.
"When you don't change the $8 (oil) filter, you're going to burn out the $5,000 turbo," ATU Local 615 president Darcy Pederson told the committee after making comments on the report.
Both Schmidt and Pederson spoke of efforts to mend a fractured relationship between Transit workers and management, suggesting things as simple as staff barbecues were helping to thaw relations. Both admitted it's likely to take more time and ongoing commitment to fully mend fences.
Saleem's report found that the city's fleet of 134 buses is sufficient to meet the city's service goals.
"There's no excuse" for failing to deliver adequate bus service, he said on Monday, adding that in his view, Transit needs to be viewed as an essential service, given the impact failures can have on residents.