The software will apparently make use of the cabin camera above the rearview mirror when it comes to making calls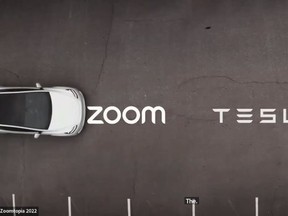 The partnership is not a complete surprise: Tesla released a promotional video for its newly released V11 software update on its YouTube channel earlier this year, which offered a behind-the-scenes look at the software; while Zoom wasn't actually mentioned in that video, Musk-eteers noticed an icon on the vehicle's infotainment screen that resembled the Zoom logo.
Ol' Elon even alluded to this by saying the ability to attend a virtual meeting while in a Tesla was "definitely a future feature." (We hope other future features include some improvements to Autopilot, before these meetings-on-the-go really take off.)
You are reading: Zoom video-conferencing app to be integrated into Teslas
Readmore : F-Issue disagreement takes one other flip with new lawsuit
Nitasha Walia, Zoom's Group Product Manager, Meetings, gave a demo of the feature operating in a Model Y during Zoomtopia. The Zoom app seems to use the cabin camera above the rearview mirror. It also showed that if you sync your calendar to your Tesla vehicle, you will be able to access a Zoom meeting straight from the in-car calendar.
There's no official implementation date for Zoom in Tesla vehicles, nor any clarification regarding whether this will operate via WiFi, or if Tesla will permit those who have signed up for Premium Connectivity to use the car's data plan.
Readmore : Out of the frying pan, into the fireplace? Meal couriers sweat amid heatwave
This author's take is that a feature like this should only be enabled when the vehicle is stopped; vehicles from other automakers often disable some features when the car is in motion.
Telsa's Autopilot isn't nearly ready to be trusted to handle the entirety of a car's operation yet, after all, and distracted driving is already increasing at alarming rates. And most importantly, I'd like to underscore that I assume the meetings people will take in their Teslas, like most meetings, probably just could've been an email instead.