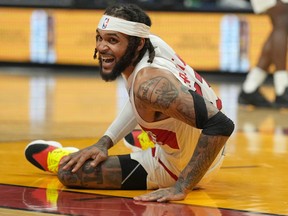 MIAMI — There's a certain inevitability to a Raptors/Miami Heat game.
It's pretty much a given that at some point in every game between these two teams, tempers are going to flare, and nastiness is going to unfold.
You are reading: Tempers always flare when the Raptors and Miami Heat go toe-to-toe
It's just recently that Caleb Martin always seems to be at the centre of it, but that's just the recent history.
It was Martin on Saturday night losing control when he felt Raptors rookie Christian Koloko might have taken a shot at his neck as he went down after taking a foul from Martin. Martin then proceeded to stand over Koloko, making another physical altercation inevitable as the rookie got up.
Martin admitted post game he was in the wrong when he basically took Koloko into the second row with a textbook football tackle.
"Overall, I got to be more professional in the way I handle those type of situations," he said but only after pointing out how the chippy nature of the game played into his reaction.
A year ago, the same Martin took Scottie Barnes into the second row in a dangerously aggressive attempt to keep him from finishing a breakaway dunk.
Barnes, in the midst of his fine rookie-of-the-year campaign somehow avoided serious injury. Not sure the same could be said from the poor woman who basically ended up with Barnes in her lap and absorbed all the force.
Fred VanVleet won't soon forget the hard screen Bam Adebayo surprised him late in the championship season of 2019. VanVleet was banged up early in that playoff run and it was only after his son was born midway through the Milwaukee series that he started to look like himself again.
Readmore : Julio Jones excited to hitch Buccaneers, Brady on one-year deal
But this isn't a one-way street. The Raptors hard physical play is very much a part of this. Ask Duncan Robinson this morning how he's feeling after Precious Achiuwa dropped him in his tracks with a screen reminiscent of the one that injured VanVleet a few years back.
Basketball may not be a contact sport like hockey or football, where hitting is central to defence, but the way the Raptors and Heat play the game, it's much closer to that style than most NBA games.
VanVleet probably summed it up best.
"Listen, they are very similar, very similar identities and approach to the game, so I think every game we play is like mayhem one way or the other," VanVleet said point game. "Even when it feels normal, at some point in the game there is mayhem, and we certainly had that tonight in the third quarter."
You can even make the point, and head coach Nick Nurse did, that until that point in the game, the Raptors weren't really playing their game at all.
Nurse said post game that he had been trying to get his troops to bring some physicality to the game and until his rookie got ambushed, he had not been particularly successful in that regard.
"I think after that little melee there, we certainly started playing physical, with a chip on our shoulder type of attitude," Nurse noted. "I didn't think we had that much until then. We need to do that, that's for sure, it's who we are."
And that's who the Heat is as well and that's why these games often get so emotional.
Koloko for his part was more confused and a little amused by the whole situation.
He's not exactly a small man and when he's allowed to get all the way up, towers over a guy like Martin. Fortunately for Martin, Koloko was never quite allowed to get all the way up or this might have gone a different way.
Readmore : Sri Lanka spinners beat Pakistan and rain to degree Take a look at sequence in Galle
Somehow both players wound up getting kicked out, but Nurse sounded pretty sure that was only the start of the repercussions for both teams.
Sure enough the hammer came down last night with the league assessing Martin a one-game suspension without pay for instigating the brawl while Koloko was assessed a $15'000 fine for basically standing up with Martin standing over him.
Heat reserve Nikola Jokic was also suspended a game for coming off the bench.
"There was a lot of people in that melee, there'll probably be a lot more I would imagine coming out of that," Nurse said. "Technicals and suspensions and guys coming off the bench and several people were in that thing that probably shouldn't have been."
The thing is as much as the league would probably prefer this kind of thing just got forgotten, there's a very real possibility it could be spark again.
For the first time in league history the schedule maker has included mini two-game series over the course of the schedule to cut down on travel around the league.
The Raptors and Heat renew acquaintances Monday here in Miami with the melee or mayhem still fresh in their minds.
Could there be a continuation?
Unlikely, but it's almost a given that the hard physical play will be amped up from both teams from the start of the game this time around.
That could easily lead to something else.