Canadian company offers wedding dresses for "savvy brides who are effortless, sophisticated and confident," founder says.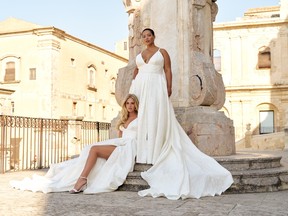 Reviews and recommendations are unbiased and products are independently selected. Postmedia may earn an affiliate commission from purchases made through links on this page.
"We keep our mindset away from designing dresses that are 'too bridal,'" says Gaby Bayona, the founder of the brand. "My aim is to follow fashion trends versus bridal trends, and inspiration comes from art, travel and the people around me."
You are reading: Style Q&A: Vancouver bridal brand celebrates 10 years of celebratory style
Celebrating its 10th anniversary this year, the Canadian wedding dress company has become known for its romantic dresses that offer a refreshing remix to the white gown category. We caught up with Bayona to learn more.
Q. For those who aren't familiar, what is Truvelle?
A. Truvelle is a bridal dress company which I founded in 2013. All of our gowns are manufactured and designed in Vancouver, and we sell worldwide through 55-plus retail partners and our own bridal shop, Lovenote Bride, with locations in Vancouver, Calgary, and Winnipeg.
Q. What makes it unique?
Readmore : UN principal interest Protection Council to expand help to north Syria
A. Prior to launching Truvelle, I custom made dresses in a small boutique in New Westminster. I had a unique approach because I was making dresses which weren't meant to be "bridal". Instead, they were intended to be graduation dresses. Much to my surprise, brides were interested in my airy, a-line dresses in soft pastel colours. My designs were a breath of fresh air from the traditional gowns which were dominant in 2010.
Now, we stay unique in a few ways. First, we're dedicated to producing our dresses in our own studio. Not only does this give us total control over the final product, but it also allows us to customize our dresses. Second, we're extremely size inclusive. Our size chart ranges from zero to 26, but if brides are outside of that range, we'll custom draft a pattern in our studio for them.
Q. Who is the target customer?
A. Our customers are savvy brides who are effortless, sophisticated and confident. They care about where their garments are made, find importance in supporting small female-owned businesses, and want designs which aren't produced for the masses.
Q. The brand is celebrating its 10th anniversary this year. How has it evolved since its start?
A. The company started out very small. At the beginning, it was just me in my apartment sewing everything by hand. Now, I have an 8,000-plus square foot headquarters with a team of around 40 people spread out across six departments — sales, marketing, cutting, sewing, quality control, and admin. I'm super proud to say that, in 10 years, Truvelle has grown into Western Canada's largest bridal dress brand.
Readmore : COVID-19 Is Nonetheless Messing Up Our Sleep. Here is Methods to Sleep Higher
The dress designs have also evolved into something more elevated. At the beginning I had very few resources — I was limited to my own capability as a pattern maker, I didn't have the finances to source fabrics outside of Vancouver, and I shied away from complicated construction techniques. Now that I have a full design and management team, I can be bolder and push boundaries more than ever before.
Q. Are there any special elements planned for this milestone year that you can share?
A. For a few years now, we've talked about launching a dress outside of our yearly collection. We may finally do it this year.
Q. Has there been a hero design in the Truvelle collection? If so, which one and why?
A. Truvelle was put on the map because of some early designs which got Pinterest famous — namely the Alexandra, released in 2016, and the Eden dress, released in 2014. Within our latest collection, Pandora has garnered a lot of attention and even went viral on TikTok with over 4.5 million views. Brides are loving the detachable lace sleeves, which contrasts the minimalist white satin dress beautifully.
Q. Lastly, what's next for the brand?
A. I want to keep on building and improving, for another 10 years and beyond. We're proud of the sustainability steps we've taken so far, but there's always room for improvement. We're also looking at diversifying the brand into other products, and are currently working on a mini collection of bridal belts.