'It seemed to me it was a number pulled from a hat,' said OPP superintendent Craig Abrams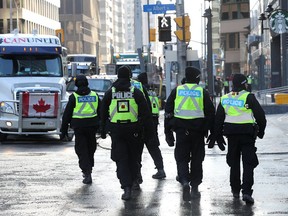 OTTAWA – Former Ottawa police chief Peter Sloly suspected people in Doug Ford's Ontario government "wanted him to fail" in successfully ending the Freedom Convoy in the nation's capital, according to a former top Ontario Provincial Police (OPP) official.
That surprising revelation came on Friday from OPP Chief Supt. Carson Pardy, who recently retired from the force but was asked to lead the Integrated Planning Group in Ottawa, during the commission that is set to examine the federal government's use of the Emergencies Act.
You are reading: Sloly's lawyer, OPP spar over Ottawa police request for 1,800 officers: protest inquiry
Pardy told the commission that Sloly, during a tense meeting on Feb. 9 with the OPP, mentioned that "there were people in the Ministry that wanted him to fail" and he came to that assumption by talking to sources. Pardy's notes from the meeting confirmed this testimony.
Pardy refused, however, to specify who Sloly was talking about specifically when asked by media after his testimony.
Pardy's notes from Feb. 9 further indicate that Sloly was "very suspicious of levels of commitments from police agencies" and that the "overall tone" of the meeting was "somewhat unprofessional and disrespectful", but that the chief of police was "clearly under tremendous pressure".
Pardy's testimony seems to confirm deputy Ottawa Police Service chief Patricia Ferguson who mentioned, during her testimony the day before, that Sloly "spoke of a type of conspiracy" which led him to believe that the OPP team was being handled by its "political masters".
Pardy said on Friday that he assured the police chief at the time of their meeting that his team was there "to help" put an end to the occupation and was not politically motivated.
Ferguson was of the same view. "I felt they were simply cops coming to help cops," she said.
Readmore : Princess Kate's connection to Prince Harry's memoir 'Spare' revealed
OPP officials who were closely involved in the Ottawa protests did, however, stress the need for the police service to come up with a proper operational plan that they would then be able to implement. Without that, the provincial force found it difficult to justify sending reinforcement.
The mission statement that Sloly said he had signed off days earlier was not "broad enough" for Pardy's liking, he said, and was "not encompassing the broader event".
"Essentially, you need a plan to be able to communicate with police leaders when you're asking for resources from around the province and in this case around the country. You need to be able to articulate what that need is and why that need exists," said Pardy during his testimony.
Earlier in the day, cross-examination from Sloly's legal team aimed to show that OPP had not only underestimated the occupation, which was considered to be "a traffic related event" until Feb. 2 according to notes, but had made it difficult for Sloly to obtain the resources he needed.
Sloly's lawyer, Tom Curry, questioned at length Supt. Craig Abrams, who ensured the role of strategic commander in Ottawa for the OPP, why he had sent an email to OPP Deputy Commissioner Chris Harkins on Feb. 7, which indicated that Sloly was deliberately asking for two times the amount of policing resources he needed during a meeting Abrams was a part of.
"Chief Sloly told them (his team) that if they need 100 (people) he will ask for 200, if they need 200 he will ask for 400. He seemed very comfortable asking for twice what he really needed," wrote Abrams in that email. "Was a very strange call to be part of," he added.
The next day, on Feb. 8, Sloly requested 1,800 officers on the ground, a number on which Abrams cast doubt on, he told the commission, because he did not consider OPS to have a proper plan at that time that detailed how those officers would be helping on the ground.
"It seemed to me it was a number pulled from a hat in that short period of time," said Abrams.
Readmore : Boy, 15, and man arrested after microwave hurled through car windscreen
Curry grilled Abrams on the contents of the email and asked him if he thought this was going to cause OPP to question the Ottawa police service's requests for help. Abrams said he acted the way he did because he was "protecting the members of the OPP".
Abrams added later that he never indicated in his private communications with senior OPP command that OPS' numbers were inflated, but said he felt the need to let his team know how the OPS was trying to determine how many people it needed.
Curry pressed him on the validity of the number, and asked him if he now accepts that the 1,800 number "wasn't a number pulled from a hat" and that "his team worked very hard to actually get the number they needed".
"No, because there was no plan," said Abrams.
Sloly's lawyer said Abrams' communication ultimately had intended effects on the rest of the operation. "It impacted what the RCMP considered the Ottawa police service needed, it impacted the way the public in Ottawa thought that the OPS was handling the matter," he said.
Abrams had previously told the commission how he considered Ottawa Police Service to be disorganized and dysfunctional, to the point where it undermined some operations by the OPP's negotiators in trying to de-escalate the events.
Sloly ended up resigning as Ottawa chief of police on Feb. 15. Pardy's witness testimony states that the Feb. 13 plan "moved more quickly" after Sloly's resignation and the Ottawa Police Service leadership "immediately supported" it.
"All the ambiguity whether the plan had been approved disappeared."