These Sabres aren't those Sabres of past years who would break smartly from the gate and quickly fade before hitting the first quarter turn.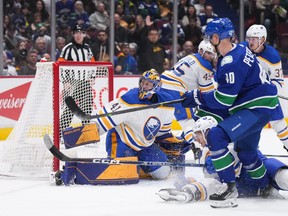 A 5-1 setback to the big, strong and fast Buffalo Sabres on Saturday at Rogers Arena was a sobering home-opener experience because it exposed weaknesses as the Canucks fell to a confounding 0-4-2 and heard a chorus of boos in the third period.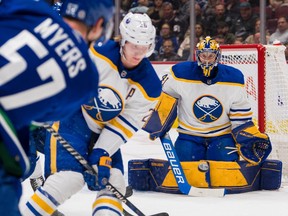 When you can't physically deter the opposition, have trouble keeping pace, are slow on the back check, and can only connect on one of four power-play chances with just five shots, you're going to be in a world of hurt. Especially against a club that started this trip with wins in Edmonton and Calgary.
You are reading: Sabres 5, Canucks 1: Continued winless streak greeted by chorus of boos
These Sabres aren't those Sabres of past years who would break smartly from the gate and quickly fade before hitting the first quarter turn. The Canucks are still stuck in the gate and the fans responded with three jerseys and a hat thrown on the ice.
If all that wasn't bad enough, Canucks coach Bruce Boudreau confirmed post game that Quinn Hughes is out day-to-day with a lower-body injury. Imagine climbing out of this winless muck without the guy who is key to sparking the transition with his sublime skating, quick thinking and laser-like passing on the tape of a rushing forward?
Good luck.
"I don't get how a team that hasn't won a game — and you have a really good second period — and aren't excited about coming out in the third and doing the same thing," said an exasperated Boudreau. "I thought this was a game that would end up 3-2 for us. It just looked like there was very little effort."
Did they quit?
"I never like to use that word," added Boudreau. "It just looked like they said: 'Oh, there's no way we can catch up' type of thing because they haven't had success yet. I would like to think that there wasn't anybody was saying: 'I don't care what happens now and I quit'. I would never accept that in my mind.
"But when you want two men to forecheck and only one is going in and knowing what they were supposed to do in our D-zone and not doing it at all, that's just really frustrating. It's the first time I've been involved in that (jerseys thrown on ice) and I hope the players feel the same way I do about it.
"It was just totally embarrassing and something you never want to see. I never thought it would happen on a team I'm coaching. If I was the fans, I'd be frustrated, too. They're watching what we're watching and I told the players to look in the mirror."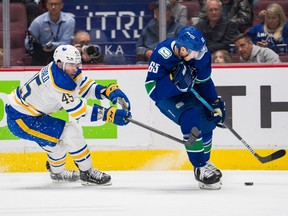 J.T. Miller has been in the crosshairs of early-season scrutiny. It comes with coming off a monster career 99-point season, a huge contract extension and a key cog in a power play that is 3-for-23 and a far cry from the unit that finished ninth overall last season.
His assessment of what went wrong Saturday was frank.
"To come out and play a third period like that given our situation was tough to swallow," he said. "And once again, our power-play unit was awful and we hold ourselves to a better standard than that. We're having a hard time winning, whether we have the lead or not.
"Go home tonight and try to sleep and wake up and have a hell of a practice because we need to. We need to be men about this and understand it's not good enough."
The aftershock of the third-period, no-show spread far and wide and was a hot Hockey Night in Canada After Hours topic for Canucks president of hockey operations Jim Rutherford.
"We don't have time to list (all the problems)," he said. "We have a lot of bad habits. We know we need to improve the defence but it's not that easy. We don't play fantasy hockey. I'm the same as the fans. Frustrated and it's hard to watch, but we can't make a panic move.
"We may very well be in a rebuild in the direction we're going. Ideally, we'd like to transition this team on the fly."
---
How the game played out
First period
Garland called Jack Rathbone his little kid brother from summer skates and the Boston area buddies nearly connected on an early goal.
Sabres' speed is quite evident — it was a key to a 4-2 win in Edmonton and 6-3 triumph in Calgary to start trip — but good early pace by Canucks with good net presence.
Towering Myers can't contain big Tage Thompson, takes holding minor. It would prove costly.
GOAL— 5:35: Dahlin's power-play point shot strikes a body before finding net on Demko's glove side. Sabres blueliner has now scored in five-straight games.
For those keeping score, Canucks power play now 2-for-20 after failed first attempt. Make that 2-for-21 with two shots on first two advantages. Hughes sorely missed to QB PP1. Rathbone looks comfortable on PP2.
GOAL — 15:18: 

Dominant possession, pressure shift by Sabres results in Alex Tuch tucking one up high on Demko. Four goals in the last two games for winger.
Second period
Brock Boeser gets stripped off puck in O-zone slot and Sabres speed away on 2-on-1. Another example of the visitors looking too big, strong and fast for the locals. Connor Garland almost changes the narrative with slot shot chance.
Readmore : Trump in DC speech requires demise penalty for convicted drug sellers
Mattias Samuelsson in some distress, has to be helped off the ice after getting tied up with Curtis Lazar in end-boards collision. Right knee got twisted under Sabres D-man. Doesn't look good.
Scene from the struggle: Van catches Buffalo on line change, Ilya Mikheyev comes off wall into high slot and loses handle on puck.
Vasily Podkolzin dangles into slot, loses balance, takes offence to being tripped Rasmus Dahlin. Like the moxie. It's something.
GOAL — 13:27: Elias Pettersson has PP chance from sharp angle before Garland deposits sweet Tanner Pearson backhand feed from side of net into slot to cut deficit to 2-1.
Thatcher Demko to the rescue as JJ Peterka gets behind Tyler Myers.
Third period
Will they or won't they? Gut-check time for the Canucks.
Thatcher Demko again, this time off Jeff Skinner in slot.
Vinnie Hinostroza catches crossbar from sharp angle, red light goes on, video review says nay.
GOAL — 1:54: Canucks slow on back check, Victor 

Olofsson left untouched to snap one low to glove side on Demko. Sabres up 3-1.
Fans are booing PP1, so PP2 mops up but doesn't deliver in big miss to close game gap. No shots from both units.
GOAL — 16:31 — Zegmus Girgensons
GOAL — 17:21 — Olofsson.
---
The Pre-Game Show
No Quinn Hughes
Canucks coach Bruce Boudreau said following the morning skate that the defenceman might be dealing with something that's day-to-day and then quickly changed that to a game-time decision. The decision was obviously to not play.
Regardless, it's going to make the coach's quest to hit the 600-win plateau as an NHL head coach — and become the 22nd bench boss to hit that height — more difficult. Hughes is averaging 27:14 of average ice time per outing, second to Drew Doughty who's at 27:19.
Miller learning to take what they give
With so much power-play potential on the first unit, it's understandable that Miller will try to find the sharp-shooting Elias Pettersson at the opposite face-off dot, or get the puck to the opportunistic Bo Horvat in the bumper position. Both require patience and precision and that's what often drives coach Bruce Boudreau crazy.
The easiest way to get out of 2-for-19 power-play mediocrity after five games is to dummy it down. Instead of trying to thread cross-ice passed through skates, or get it to Horvat in tight quarters, just shoot. Get pucks to the net. Get to the net. Get rebounds.
"We have a lot of options and it runs through my stick a lot," said Miller. "Take what they've giving me and that's the hard part to do. We know a lot of tendencies. When I'm shooting the puck and getting to the inside, it sets up a lot of stuff, too. Teams are doing a good job of getting on top of Bo already. He has scored a lot of goals and I've got to work to create ice for him."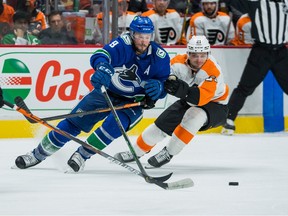 Miller is what he is, good or bad
Miller was also asked about trying too hard to make things happen because he wants to succeed. It helps and it hurts.
It can lead to bad puck decisions, bad passes and bad goals, but that's how the centre is wired. His loud-and-proud persona comes complete with a high-risk, high-reward mantra that coaches can either love or loathe. Miller has committed four give-aways.
"I've been my own worst enemy forever," admitted Miller, who has three points (2-1) and just 10 shots through five games. "It makes me the player I am. I wouldn't say it's pressure. The older I get, the more I understand there's a way to play for me. It's very simple. Keep playing. I expect a high level of play from myself. I know it's hard to rein that in, but it brings the best out of me.
"I've been pretty good in my own end in winning puck battles and being responsible. At some point, the puck will end up on my tape more and I'm trying to be patient. The timing will get better, but it's important for me to be patient, because at some point, the game will open up and I have to believe it's coming."
Rathbone pumped to finally make season debut
The family has been alerted back in the Boston area.
"I'm pumped," said Rathbone, 23, who had a solid rookie American Hockey League season in 2021-22 at Abbotsford. "I have to just kind of stay within myself a little bit and let the game come to me. Obviously, those first few shifts, the heart rate is going to be going just from the excitement of playing in front of the home crowd.
"I've been given this opportunity for a reason and something I'm pretty confident about and ready for. It's a been a long summer and when Bruce talked to me this morning, the smile hasn't come off my face."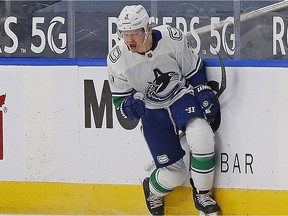 Rathbone was briefly hospitalized after absorbing a devastating check Feb. 16 in Bakersfield, Calif. He also had a shoulder injury and COVID-19 diagnosis, but his 40 regular-season points (10-30) in 39 games proved a willingness to take his game to another level. He projects as a future second-unit, power-play quarterback and the NHL level.
His 1.03 points-per-game and 19 power-play assists were fifth among league defenders, and he was named to the AHL all-rookie team. He even had a Gordie Howe Hat Trick — goal, assist, fight — to demonstrate a feisty determination that the 5-foot-11, 190 pounder packs in being a fourth-round pick in 2017.
Boudreau's advice: "Use your best attributes, which is your skating, puck handling, shooting and the offensive talents. And understand the defensive portion of the game. But in the end, just be you. What got you here is going to keep you here."
What do you think of the Canucks' new jersey?
The Canucks unveiled their "reverse retro" jersey on Thursday, a royal blue, green and beige sweater featuring a 1960s-era Johnny Canuck. Check it out here: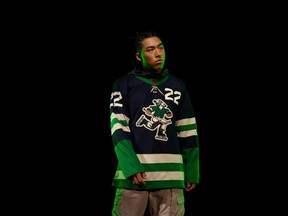 The Canucks will wear theirs for the first time on Nov. 1 against New Jersey, and then seven more times, before New Year's.
While we're on the subject of polls …
Is Tuch the one that got away?
When the previous regime was trying to get more out of former Canucks winger Jake Virtanen, general manager Jim Benning often mentioned power forward Alex Tuch, who was then with the Vegas Golden Knights.
The Canucks liked his hustle, presence and finish and wanted Virtanen to emulate the right winger, who had 52 points (20-32) in the 2018-19 season. On Thursday in Calgary, Tuch collected his first career hat-trick as the Buffalo Sabres impressed in a 6-3 rout of the Flames.
Virtanen did hit career highs for goals (18), assists (18) and points (36) in 2019-20, but never became the player the Canucks envisioned. Whether it was his size and ability to dominate at the Western Hockey League level, or a marketing move with a local lad returning home to play for the big club, there always seemed to be something missing in his game.
Virtanen was selected sixth overall in 2014. Tuch, a 6-foot-4, 219 pound product of the U.S. National Team Development Program, went 18th to the Minnesota Wild. He's at a $4.75 million annual salary cap hit this season and for two more.
The Sabres present plenty of problems tonight. One is defenceman Rasmus Dahlin, who has scored in four-consecutive games to start the season. Boudreau was quick to remind us that Mike Green scored in eight straight for him in Washington.  It will be imperative for wingers to take away Dahlin's point shot and passing options tonight.
"I practise against Huggy (Hughes) enough where I know the guys who are mobile and I try to go up against them a lot and give them a hard time — but they can move and shoot — and if you give them too much space they'll kill you," said Canucks winger Conor Garland. "He (Dahlin) is obviously a guy you have to keep an eye on.
I've played with a lot of their guys and know how talented they are. They have a really big D-corps, guys who move really well. A challenging team that's going to be good for a while."
Some early Sabre rattling in Buffalo net
---
More news, fewer ads: Our in-depth journalism is possible thanks to the support of our subscribers. For just $3.50 per week, you can get unlimited, ad-lite access to The Vancouver Sun, The Province, National Post and 13 other Canadian news sites. Support us by subscribing today: The Vancouver Sun | The Province.