After several torturous weeks of futile football, the Saskatchewan Roughriders' brass will finally get down to business in the days ahead.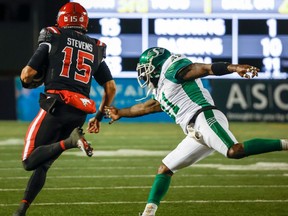 The Roughriders (6-12) were to clean out their lockers within 24 hours of losing 36-10 to the host Calgary Stampeders in Saturday's obligatory regular-season finale.
There is an accompanying lobby for the Roughriders' housecleaning to extend far beyond the players' dressing-room stalls and into the front office.
You are reading: Rob Vanstone: Roughriders' shoddy season finally over — blame game begins
The clamour for a shake-up is understandable.
After all, the Roughriders become a running joke after their 4-1 start was more than neutralized by a 2-11 finish.
And what a dismal denouement it was Saturday for the Green and White, which expertly limited Stampeders quarterback Tommy Stevens to an 85-yard gain on third-and-one.
After one quarter, the tally: Stampeders touchdowns 2, Roughriders first downs 0.
At halftime: Stampeders touchdowns 3, Roughriders first downs 3. (Progress!)
After three quarters: Houston Astros 5, Philadelphia Phillies 0. (Is the football game still on?)
At 5:49 of the fourth quarter: Stevens, on a quarterback draw, is held to 71 yards. (More progress!)
The final verdict: Seven consecutive losses for the Roughriders. Get your 2023 season tickets NOW.
A team that appeared in back-to-back CFL West Division finals took the highly anticipated next step — by walking off a cliff.
Readmore : Max Verstappen cruises from pole to win Austrian GP dash
The Roughriders' woes were exacerbated by their propensity to lose composure as well as games.
And they never quite seemed to grasp what a distracted, disjointed, dysfunctional disaster they had become.
Marino finally talked to the media after serving a four-game, league-issued suspension. He even said all the right things, albeit more than a month too late.
Even then, the ghastly optics persisted. Only four players, out of several dozen who populated a flawed roster, saw fit to stand behind Marino during his media scrum. One member of the quartet even chided reporters for the line of questioning.
It was yet another example of the Roughriders' acute tone-deafness — of their sheer disinclination to look in the mirror. It is a far, far easier thing to blame the messenger instead of engaging in introspection.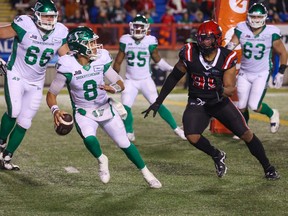 Long after Marino was predictably punted for repeated questionable hits, Fajardo kept playing — with an injured knee! — behind the worst line since "what's your sign?"
Oh, and he was also saddled with a slower-than-erosion receiving corps.
But, hey, let's just blame everything on Fajardo and hang him completely out to dry, even though anyone with a modicum of intelligence can see it for what it is — shameless scapegoating/offloading.
Unlike the general manager.
O'Day knew that changes were imperative along the offensive line after the 2021 season.
There were changes, all right. It got worse — historically worse.
Readmore : Eagles gamers knew Nnamdi Asomugha was 'overrated' from starting
The 77 sacks surrendered in 2022 are the most in franchise history.
Complicating matters, the Roughriders' personnel people kept bringing in one concrete-cleated, paddle-handed receiver after another. Meanwhile, rival teams were introducing proficient pass-catchers such as Dalton Schoen (Winnipeg Blue Bombers) and Dillon Mitchell (Edmonton).
The regression of a once-formidable defensive line began when Marino was suspended. A concussion suffered by fellow defensive tackle Anthony Lanier II compounded the problem.
Another factor was a regression by defensive end A.C. Leonard. The CFL's leader in sacks in 2021, he did not topple a quarterback in any of his final eight games this season. He sat out Saturday's regular-season finale without any discernible decline in production.
What did O'Day do to rectify obvious deficiencies?
From this, you are cordially invited to draw your own conclusion: The CFL's Oct. 5 trade deadline came and went without O'Day making a single move — with a Regina-based Grey Cup game approaching.
Maybe he took a vet day.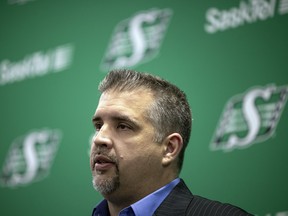 Tankfully — er, thankfully — this sorry season is over.
After several somniferous weeks of slippage, speculation and senseless sideshows, the Roughriders' brass will get down to business and formulate a blueprint for the future.
Who will stay? Who will go? And who will be the halftime show?
I do not pretend to have the answers — if I did, they would appear here — but the days ahead promise to be eventful as the Roughriders' ruling class attempts to explain and rectify what went so horribly wrong.
If nothing else, the early aftermath of the excruciating exercise that was the Roughriders' 2022 season promises to be infinitely more interesting than the final few games have been.