The government ordered three Chinese companies to exit three Canadian lithium miners based on alleged threats to national security
Ottawa has ordered three Chinese companies to divest their investments in three Canadian junior lithium miners as it looks to strengthen its hold on this country's critical minerals projects amid rising demand for the commodities.
Industry Minister François-Philippe Champagne said that following a "multi-step national security review process," the government has asked Sinomine Rare Metals Resources Co., Chengze Lithium International Ltd., and Zangge Mining Investment Co. to divest from Canada's Power Metals Corp., Lithium Chile Inc., and Ultra Lithium Inc., respectively.
You are reading: Ottawa takes steps to offset China's dominance of EV supply chain
These steps were taken under section 25.4(1) of the Investment Canada Act (ICA), which gives the government the power to require non-Canadians "to divest themselves of control of" a Canadian business if it believes the investment could be injurious to national security.
"In accordance with the ICA, foreign investments are subject to review for national security concerns, and certain types of investment — such as those in the critical minerals sectors — receive enhanced scrutiny," Champagne said in a statement. "Therefore, we reviewed a number of investments in Canadian companies engaged in the critical minerals sector, including lithium."
Readmore : Jan. 6 hearing: Just how did Trump react when crowd shouted 'Hang Mike Pence'?
Calgary-based Lithium Chile said "it was reviewing the options and potential outcomes of the order with Chengze." Jonathan More, chief executive of Power Metals, said the company was reviewing the matter with legal counsel.
"While we are surprised by Canada's stance towards Chinese investment into Canada's critical minerals industry, it clearly shows that they see the opportunity and assets of Power Metals as too valuable for such foreign investment," he said in a statement.
The government's orders come days after Canada raised the bar that foreigners must clear to join the country's critical minerals industry. Any attempt by a state-owned enterprise to purchase assets in the sector can now trigger Part IV.1 of the ICA, which could require an extended review on the grounds that it could be "injurious" to national security.
Champagne said that the government's decisions were based on the advice of "critical minerals subject matter experts, Canada's security and intelligence community, and other government partners."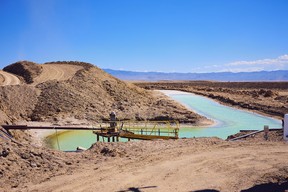 Readmore : Former Trump White Home Counsel Cipollone meets with Jan. 6 panel, provides new info
China dominates the electric-vehicle (EV) supply chain through its refining and processing industries, even though most of the metals required by EVs, such as lithium, nickel and cobalt, are mined outside the country.
Democratic countries in North America and Europe have been banding together to offset China's dominance of the EV supply chain.
For example, Washington's recently passed Inflation Reduction Act offers a US$7,500 subsidy to encourage the production of EVs in North America, while Minister of Finance Chrystia Freeland has repeatedly stressed the need for "friendshoring," an idea that democratic allies would build supply chains through each other's economies and tackle the influence of authoritarian regimes in the energy sector.
Zhao Lijian, a spokesperson for China's foreign ministry, urged Canada to stop suppressing Chinese companies.
"The Canadian side has overstretched the concept of national security and placed arbitrary curbs on normal trade and investment cooperation between China and Canadian companies," he said at a press conference on November 3.